Van Hire Nottingham
All you need to know about hiring a van in Nottingham
Situated in the East Midlands, Nottingham is a bustling city located along the River Trent's lower valley with the historic Sherwood Forest to the North. A large urban city with a broader population of around 680,000 people, Nottingham is widely known for Robin Hood's legend, its links to lacemaking and Raleigh bikes. It was also named "Home of English Sport" back in October 2015, and it's not hard to see why. With two professional football teams, Trent Bridge international cricket ground, Holme Pierrepont National Watersports Centre and the National Ice Centre (where the Panthers Ice hockey team play), it certainly is a national centre for sport.
Nottingham is also a large student city. Around 43,300 students reside in the city, coming from all over the globe to study at either Nottingham Trent or Nottingham University or one of the many colleges in and around the city. Nottingham is also home to one of the largest hospital teaching trusts in the UK, Nottingham University Hospitals. Spanning three sites, Queens Medical Centre, City Hospital and Ropewalk House, each plays a vital role in the education and training of doctors, nurses and other healthcare professionals. Before it was surpassed in 2012 by Royal London Hospital, The QMC was the largest hospital in the United Kingdom.
Economically, Nottingham has plans to grow and diversify to ensure better stability in the future. Although historically, it was world-renowned as a manufacturing centre – led by companies such as Players and Raleigh – more recently, manufacturing has been overtaken by the services sector. Now, nearly nine out of ten jobs in the city fall into this category which is significantly higher than the national average. With one of the youngest populations of any of the UK's major cities, there is much focus on innovation and growth to ensure the economy thrives in sectors where it may have fallen short and retain the talent brought here by its strong educational facilities.
As one of the cleanest, greenest and least car-dependent cities in the country, you won't be surprised to hear that Nottingham's ambition to be the first carbon-neutral city by 2028 is also already well on the way. Nottingham has the highest bus use level per person outside London, so this, and other factors, means that the city has already reduced CO2 emissions by above 42% since 2005', surpassing previous carbon reduction targets. However, there is still much more to do, and an action plan has been set out addressing the high-level objectives in place to achieve this status by 2028.
Van hire in Nottingham
There are an estimated 5 million van rentals in the UK every year. Although a vast 81% of these hires are from corporate customers, many private hires are needed for anything from house moves to furniture transportations.
If you live or work in or around Nottingham and are looking to hire a van, Nationwide Hire can help. We supply vans of all types depending on your requirements. We have flexible hire options available for all our vehicles, from Luton vans for a house move, transits for drop-offs and deliveries to freezer vans for transporting frozen products. So if you need the van for one day, one month, or even longer, we can help.
Business van hire in Nottingham
Many Nottingham businesses rely on companies like ours to get the job done. Whether they have a van off the road or need one for a specific job, Nationwide Hire can organise everything from free drop off and pick-up service to long -term hire agreements. We also offer a 10% discount on the rental to business customers if insured using a current company policy.
No matter what type of van is needed, the Nationwide Hire team is always on hand to answer questions and advise on the best vehicle for the job if required. Smaller vans such as the Transit or Caddy are an excellent choice for carrying tools or equipment. Vans like this start at around £101.98 for a days' hire and have plenty of space for a sizeable load.
Larger, more specialised vehicles are also available like Sprinters, Tipper Transits, Cherry Pickers and Crew vans. We hire by the day and can offer discounts on some models for advanced bookings. We also have Fridge and Freezer vans available if a temperature-controlled unit is required. Hire prices start from as little as £127.71 per day, and we can cater to specific requests such as standby sockets and dual compartments if needed.
Private van hire in Nottingham
Many vans are hired for private use, so if you are in the Nottingham area and require a hire vehicle, please get in touch. We book vans out on day by day basis, for a minimum of 24 hours, and most can be driven on a standard UK driving licence.
Many vans are used for house or furniture removals. The Luton Van is the perfect choice in this situation and is easily one of the best vehicles for the job. Not only are they spacious, but many models also come with a tail lift, making it easier to load and unload bulkier items. For smaller house moves, a Transit van still provides plenty of space to get the job done efficiently and maybe a better option if you have never driven a van before.
We're here when you need us
Whatever your van requirements, whether for business or personal use, we are on hand to answer any questions you may have, make suggestions and offer help and advice when required. We will take you through any checks needed, help you familiarise yourself with the vehicle, and advise any height restrictions you will need to be aware of for parking and driving. We also recommend checking any payload restrictions for the vehicle, too; it is a legal requirement to monitor the load's weight. Police can be issue penalties should these limits be exceeded.
If you need any more information about hiring a van in Nottingham or the surrounding areas, please get in touch. Our friendly sales team is available seven days a week on freephone 0800 5244 780. Alternatively, you can talk to us online via our home page chat portal during opening hours.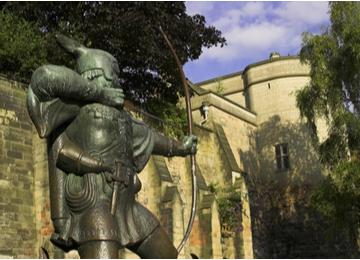 Vans to hire throughout the city and suburbs of Nottingham
We provide van and vehicle hire throughout the city of Nottingham and the areas of Beeston, Stapleford, Eastwood, Arnold, Carlton, West Bridgford, Ruddington, Tollerton, Bingham, Ilkeston and Hucknall.
Our service includes the delivery of the rental vehicle to your preferred address and collection of the vehicle at the end of the hire period.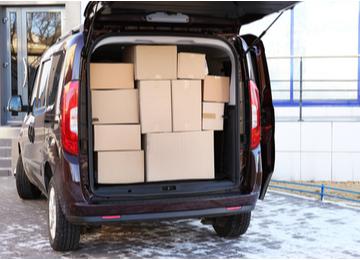 What is the best removal van to hire?
Well, the Luton 3.5 ton van offers 600 cubic feet, but if you are licensed to drive the 7.5 ton Luton Box Van it means you double the capacity to 1200 cubic feet which could mean the difference if you are hiring a van to move home in a single trip as opposed to a few runs between your old and new home.
So, save time and effort if you are able to hire the 7.5 ton Luton truck
And don't forget to hire a van with a tail lift, let the van do the work.
Nottingham van hire with no deposit
Nationwide Hire offers van hire in Nottingham on a short, medium or long term basis with no deposit and offer a delivery and collection service that is the ultimate in convenience.
Our Nottingham customers are people who want to hire a van just for a day or two or for longer rental periods.

We hire out to businesses, fleet managers, couriers, delivery drivers, families, holidaymakers, and individuals who need to get from A to B with the minimum of fuss and maximum choice of vans to hire.