Luton Van with tail-lift hire

Even if you haven't heard of the Luton van before you will definitely recognise one when you see one as the Luton van (or box van as some call it due to its shape) has been on our roads for many, many years.
Conceived in Bedfordshire by a British vehicle manufacturer known as Bedford Vehicles, the Luton van was born from a need to transport straw hats. Back in the 1930s, Bedfordshire's straw hat industry was booming and there became an increasing need for larger vehicles specially developed to transport them. The box style body was designed to accommodate the high volume and low weight loads of hats which were stored in long cylinders that fit the width of the van. This is why the Luton van was (and still is) suitable for the transportation of light but high-volume loads.
If you're wondering how the name came about, it derived from the fond nickname given to the vehicle by the straw hat manufacturers themselves, inspired by the production line location – unsurprisingly, the town of Luton, Bedfordshire.
Due to its shape and the original purpose of its design, the Luton became a popular choice for those in the removal industry and still enjoys this impressive favour to this day. Style-wise, it has adapted, although its shape has not changed much from its inception all those years ago. The boxy, square shape of the back part of the van that extends over the cab to provide additional storage space is still as effective as ever. But now the van sports a slightly longer wheelbase which means larger objects can be carried and stored. The later vans – and vehicles Nationwide Hire have for hire – also include a very useful hydraulic tail lift meaning ease of loading for bulkier, heavier items. Another reason they still are a popular choice when moving home.
How big are Luton vans and is it best for me?
There are countless benefits to hiring a Luton van if you need a vehicle with decent space that isn't too large either. As the biggest van, you are allowed to drive on a standard UK driving licence, it also makes it the go-to choice for any cargo transfer you may need to do. That is why, as mentioned previously, they are the popular choice for property movers across the country and serve well for small businesses alike offering similar services.
The vans have large enough backs to accommodate everything from furniture and appliances to multiple boxes and storage containers. They also offer the added room of the space above the cab – sometimes referred to as the 'kick' – which you don't get with a transit hire. And, if you don't fancy the heavy lifting in and out of the van, the tail lift is more than a helping hand whatever is being loaded into the van.
Ford Luton van hire (or similar) from Nationwide Hire
The Ford Luton Box van with tail lift is the biggest van available at Nationwide Hire from all of our 190 locations across the UK. The specifications are as follows:

Passengers – 3
Drive – Manual
Internal dimensions (LWH) – 3.65m x 2.00m x 2.00m
External dimensions (LWH) – 6.50m x 2.10m x 3.15m
Payload – 1000kg
Tail lift weight capacity – 500kg
Volume (cubic m) – 15
Volume (cubic ft) – 600
Miles per Gallon (MPG) – 25 - 30
If you're looking for a van for a DIY house or office move than the Ford Luton van (or similar) is perfect for you and sure to help you get the job done a lot easier. And, as our Luton vans have a tail lift, it's easy to lift larger and heavier items in and out.
Luton van hire starts from £385* ex VAT for a two-day period for a driver over the age of 25, including delivery and collection. If you are under 25 there is a young driver's surcharge of £40 ex VAT. You can then top up your hire with extras such as child car seats, sat-nav hire and European insurance cover if you are taking the vehicle abroad. Any additional drivers can be added to your hire for £24 ex VAT.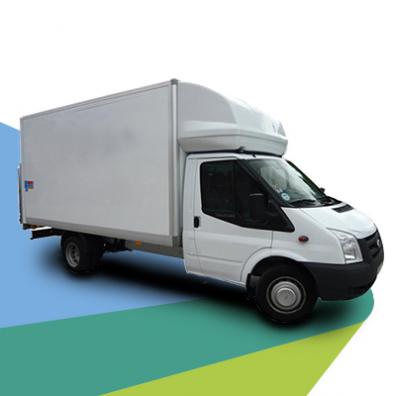 Example of a Ford Luton box van available for hire through Nationwide Hire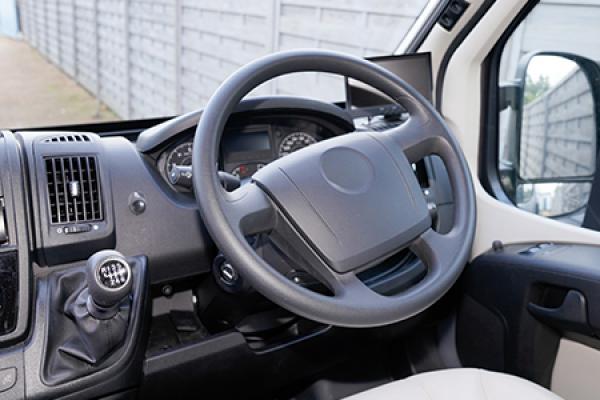 You can hire a Luton van on a standard driving licence
What do I need to know about hiring and driving a Luton van?
You can hire a Luton van with a standard car driving licence as it falls in the under 3.5 tonnes category. Bear in mind if you haven't driven a van before that, although many of the aspects are the same as driving a car, they are much wider and longer than most cars and don't have a rear-view mirror. We recommend before driving off you:
• Check you understand the height and width of the vehicle especially if planning to use a car park or need to go down a restricted access road.
• Familiarise yourself with all the controls, especially lights and windscreen wipers.
• Sit in the cab and become accustomed to the new seating position and posture which will differ from driving a car.
• Adjust your mirrors to ensure you can see the road around you, as they will be your eyes to the side and the rear as you drive.
• Take a moment to try out your brakes as they will be sharper and more immediate when the van is empty.
• Sort out your route and know where you are going to avoid the stress of getting lost in an unfamiliar vehicle.
Is there a limit to how much you can carry?
If you're hiring a van it generally means you need to carry a cargo of some sort. In the UK there are restrictions on how much weight a vehicle can carry, and it is up to the driver to ensure the cargo – including any passengers – does not exceed this.
Overloaded vehicles are not only dangerous for the driver, but they also pose a risk to other road users as well as a heavy load can affect handling and braking capacities. Weight can also hinder performance meaning speed is compromised and fuel consummation goes up along with your fuel bill. There is then the problem that a heavy load can also cause damage to the van itself, especially to the tyres and axle which could prove costly. Damage such as this is not covered on the insurance when you hire the van.
The payload – any load carried by the vehicle including passengers – on the Luton vans we hire is 1000kg. Please ensure you adhere to this when loading items into the back of the van.
While you may see no harm in going slightly over the weight limit, if you are stopped at any point of your journey, there will be consequences as a result as you are still breaking the law. These are:
Fines
If you are found to be over your weight limit, you face a fine of up to £300 depending on the van's limit and the load and a court summons if 30% over the load limit.
The current penalties are:
5%-10% over – £100
10%-15% over – £200
15-30% over – £300
More than 30% over – court summons
Points
Whilst carrying weight over the limit is not an endorsable offence (meaning points on your licence), if this is not the first time you are carrying above weight restrictions, you may have points added to your licence.
You won't be able to continue
If you are caught and found to be over the limit you will not be allowed to continue your journey until you offload some of the weight. If it is not possible to offload the weight, your van may be clamped until possible and safe to do so.
If you are concerned about the weight of your loaded vehicle we recommend finding out where your local weighbridge is and taking the vehicle there before continuing with your journey. Most weighbridges are operated privately, and you will need to contact them before you take the vehicle there. Always check their costs and operating hours before taking your vehicle. You can find your nearest weighbridge here.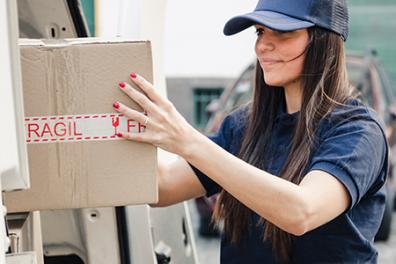 Check the payload of the vehicle before you load it up
If you need any help or advice on hiring a Luton van from Nationwide hire, please do get in touch. You can call us on freephone 0800 5244 780 or chat to us online between the hours of 8 am and 6 pm Monday to Friday or 8 am and 5 pm Saturday and Sunday.
*Discounts and offers are occasionally available so please speak to a member of our team about hiring any of our vehicles