Van Hire London
All you need to know about hiring a van in London
London is our capital city and the largest populated area within the UK. Originally named Londinium by the Romans, London has been a major settlement for over two millennia. Now, along with the City of London and the City of Westminster, it comprises a further 31 boroughs to make it the city it is today.
As expected, London is also the United Kingdom's financial capital and one of the world's largest financial centres. Its number of ultra-high-net-worth individuals and billionaires is second only to Paris and Moscow, respectively, and testament to this and its long heritage and huge power in the global economy.
As a result, London is one of the most important cities globally and is a major player in the arts, fashion, finance, and media sectors. It also has the largest concentration of higher education institutes in Europe, being home to such famous institutions as University College London, Central St Martins College of Art, Imperial College London and the London School of Economics.
As of August 2020, over three-quarters of people aged between 16 and 64 living in London were employed, so it is not surprising that London's roads are still busy every day despite the congestion charge and the comprehensive public transport network. Whilst six out of ten journeys are for personal purposes, a fifth of all road use is business-related.
With all this in mind, it is no wonder that van usage in London is widespread. The "white" van has become a common sight on the roads because of delivery drivers and tradesmen and other booming sectors such as construction. With over 3.9 million commercial vans registered on Britain's roads, that's a lot of vans integral to businesses up and down the country. So, if a van is off the road for any reason, companies need to have other options.
That is where Nationwide Hire comes in. As a nationwide self-drive hire company, we supply vans of all sizes and capacities to customers throughout the London area. Our vans range from small caddy type vehicles to larger, more specialized vans, so no matter what job you need a van for, we can help wherever you are in London.
Van hire in London for business
The type of business will dictate the vehicle needed. For example, a Transit, Caddy or similar is ideal for transporting equipment, cargo or tools, so perfect for plumbers, delivery drivers and alike. Prices for these vans start at around £101.98 for a day. They provide plenty of space for ample cargo but aren't as bulky as their larger counterparts.
Other makes and model available at Nationwide Hire are Sprinters, Tipper Transits, Cherry Pickers, and Crew vans – all popular construction industry choices. Prices on vans such as these vary so, please get in touch for a quote.
We also supply Fridge and Freezer vans for as little as £127.71 per day. These vans are perfect for carrying cargo that requires temperature-controlled movement, so widely used in the catering sector. We can also accommodate specific requests such as standby sockets and dual compartments.
Hire terms are flexible with all our vans, and vehicles are available for long and short term use. We also offer a 10% discount on the rentals if the vehicle is insured through a company policy. We cover London and the surrounding areas, including the airports, and businesses can also benefit from our FREE delivery and collection service when available.
Van hire in London for personal use
One of the most common reasons for hiring a van outside of business use is to move to a new house. Unsurprisingly, London is a popular destination and, every year, up to 200,000 people move from elsewhere in the UK to live there, while only 25,000 move away. Also, London's renters move 10% more often than those from other regions, with nearly 37% moving three or more times in five years – that's a lot of transporting furniture from A to B!
If you are moving within or to the capital and are considering a DIY house move, we recommend the Luton Van. This vehicle offers good space, and the added tail lift is invaluable when it comes to loading bulkier items. It is also the largest van you can drive on a standard UK licence, which means you get the space without the need for extra permits and licences.
If you are hiring one of our vans and haven't driven in London before, you will need to be aware of the Congestion and Low Emission Zone charges and rules. Any tariffs and registration to go in and out of these zones is the driver's responsibility, but our team can advise on low emission vehicles if necessary.
If you need any information about hiring a van in London, please do get in touch with our friendly team. Lines are open seven days a week on freephone 0800 5244 780 or, if you prefer, our online chat also operates during working hours.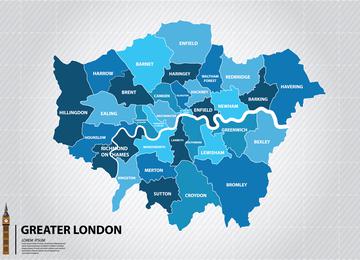 Vans to hire throughout London covering all of the 33 London Boroughs
We provide van throughout the city of London and Barking, Dagenham, Barnet, Bexley, Brent, Bromley, Camden, Croydon, Ealing, Enfield, Greenwich, Hackney, Hammersmith and Fulham, Haringey, Harrow, Havering, Hillingdon, Hounslow, Islington, Kensington and Chelsea, Kingston upon Thames, Lambeth, Lewisham, Merton, Newham, Redbridge, Richmond upon Thames, Southwark, Sutton, Tower Hamlets, Waltham Forest, Wandsworth and Westminster.

Our vehicle hire includes the delivery of the van or truck vehicle to your preferred address and collection of the vehicle at the end of the hire period.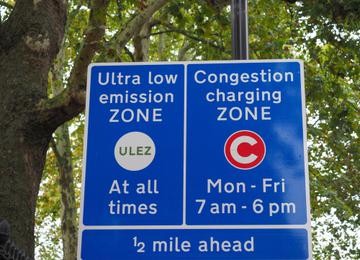 London Congestion Zone and ULEZ charge
When hiring a van in London it pays to keep aware of the London Congestion charge

You need to pay a £15 daily charge if you drive your van rental within the Congestion Charge zone 07:00-22:00, every day, except Christmas Day (25 December).

London Congestion Zone Map

You can download a map of the London Congestion zone and other resources to help you plan your journey HERE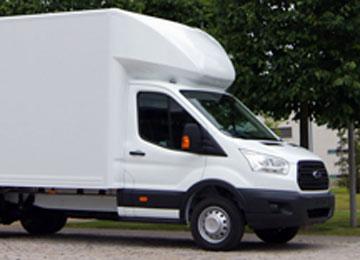 Can I hire a 3.5 ton or a 7.5 ton Luton Van on my license ?
Moving house in London and thinking of hiring a van and doing it yourself?
The Luton Van 3.5 ton is the largest van you can hire on an ordinary license...
Unless your license was issued pre-1997 in which case you can hire a 7.5 ton Luton Box van (which is really a truck).......they call it grandfather rights.
So if you are moving house or heading off to university or simply want to offload all that stuff that has been clogging up your garage at the recycling dump, we have a range of vans available for hire to suit your needs.