London Congestion Charge and vehicle hire: our simple guide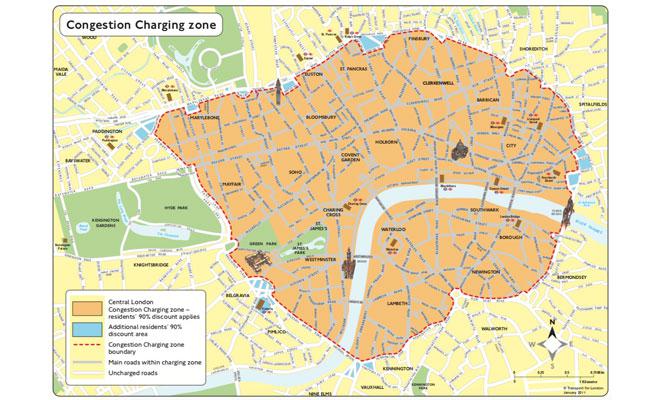 If you live in or around London, you're probably aware of the Congestion Charge. If you haven't heard of it and are hiring a vehicle to take into the capital, then don't get caught out – check before you drive if charges apply to you.
Introduced by Transport for London (TfL) in February 2003, the daily £15 charge aims to reduce congestion within central London and applies from 07:00-22:00, seven days a week excluding Christmas Day.
Zones are clearly indicated through road signage and zone maps are readily available online for you to check before you travel. The TfL website also allows you to enter postcodes to see if your destination is within the specified zone.
During the Coronavirus lockdown, no charges were in place. Now things are back up and running any travel through the designated zones is again liable for the charge. So, if you're planning on driving into London here are the things you need to know if you're entering the Charge Zone.
The easiest way to pay is by setting up Auto Pay
You can set up Auto Pay with TfL to bill you automatically if you use the same vehicle. However, if you plan on driving a hire vehicle you will need to go online, create an account and enter your vehicle registration number and planned days of travel to find out the amount payable and any exemptions that may apply. Tip: Check the vehicle details match the registration number entered. Even if the reg is correct, if the description doesn't match, you could still be liable for a penalty.
You can pay in advance or the up to three charging days after travel
If you know when you are travelling and have the registration number and make of vehicle you can pay up to 90 days in advance of your journey. The likelihood is, if hiring, you may not have this information. However, you then have up to midnight on the day of travel to pay the charge at the standard rate. If you don't do this, you can still pay up to three charging days after your journey at a slightly increased price of £17.50 (charges for ULEZ and LEZ excluded). After this period is over, penalties will be applied. Tip: Download the app and set up an account before picking up your vehicle to make it easy to register and pay.
There may be more than the £15 charge
As well as the Congestion Charge, there is also what is known as ULEZ (Ultra Low Emission Zone) and LEZ (Low Emission Zone). The ULEZ operates the same area as the Congestion Zone whilst the LEZ covers most of Greater London. Both were brought in to discourage heavy diesel vehicle movement in London to bring about a cleaner environment. Tip: If you're planning on a central London route speak to your hire company about lower emission vehicles for hire that suit your purpose.
It's your responsibility to pay any charges

Whenever you hire a vehicle any tolls or charges that arise whilst you are driving that vehicle are your responsibility, along with any penalties you incur whilst that vehicle is in your care. As the vehicle is registered to the company you have hired from, they will receive any notification of penalties. However, you will be contacted if this happens and you are responsible for any fines. Ensure your details are correct and you have paid any charges necessary to prevent any unexpected correspondence. Tip: Avoid unofficial charging systems that may mislead you and always pay through the official TfL system to avoid fraud and penalties.
Don't confuse the Dart Charge with the Congestion Charge
Confusingly enough, the Dart Charge uses the same C logo as the Congestion charge. However, they are entirely separate schemes. Just because you have paid the Congestion Charge does not mean you can use the crossing and vice versa, so don't get caught out – make sure you pay for each separately. It is still free to use between the hours of 22:00 and 6:00. Tip: Not only can pay the Dart fee online, by phone or by post, but you can even pay through a Payzone retail outfit. Find your nearest one here.