Van Hire Leeds
All you need to know about hiring a van in Leeds
Situated in North Yorkshire, Leeds is a beautiful historic, yet modern and cosmopolitan city set on the south bank of the River Aire. As the third-largest city with a population of over 792,000 people, Leeds is the cultural, financial and commercial heart of the West Yorkshire Built-up Area and it is not hard to see why. Boasting five universities (three internationally recognised), a Conservatoire and School of Contemporary Dance, Leeds is a thriving student city and a hive for the arts, music, shopping and nightlife.
With an ever-growing economy, Leeds is one of the most diverse when it comes to employment and has seen the fastest rate of private-sector jobs growth of any city within the United Kingdom. Key economic sectors in the city include finance, retail, leisure and tourism, construction, manufacturing and the creative and digital industries, mainly graphics and gaming, with many developers having studios in and around the city centre.
As the UK's fastest-growing city, Leeds' economy is forecast to grow by at least 21% over the next ten years. There are 32,000 VAT registered businesses in Leeds with 6,000 SMEs accounting for more than half of the city's private employment. Recent business 'scale-up' data also highlighted Leeds as a centre for fast-growing businesses, with only London and Cambridge being more successful in this area.
More than £3.9 billion has been invested in development over the last decade, and Leeds will also see some more significant investment in the future. A further £7.3 billion is either in the pipeline or under construction, meaning even more growth potential for the city over the coming years.
With the city flourishing and business booming, it's not hard to see why van hire in Leeds is an essential part of business life. Van usage has increased dramatically over the last 25 years, with Light Commercial Vehicles (LCVs) playing an integral role in businesses of all types and sizes, so having the facility to hire a van when the need arises is important for many companies in and around Leeds.
If you live or work in or around Leeds and are looking to hire a van, Nationwide Hire can help. We supply vans of all types depending on your requirements. From Luton vans for a house move, transits for drop-offs and deliveries to freezer vans for transporting frozen products; we have flexible hire options available, so if you need the vehicle for one day, one month or even longer, we can help.
Business van hire in Leeds
Nationally, 81% of van hire comes from corporate customers, so we know that Leeds businesses rely on services such as ours to get the job done. Whether you need a van to cover one of your fleet that's off the road or for a specific task, we can organise everything and include a free drop off and pick-up service in the price and cover many locations in and around Leeds. We also offer a 10% discount on the rental to business customers if you insure the vehicle using a current company policy.
No matter what type of van you are looking to hire, the Nationwide Hire team is always on hand to answer any questions. If it's a smaller van you need then a Transit, Caddy or similar would be a good choice, and perfect for carrying tools or equipment. Vans of this size start at around £101.98 for a days' hire and give you plenty of space for a sizeable cargo.
More specialised professions require more specialised vehicles. Our fleet of vans also include Sprinters, Tipper Transits, Cherry Pickers and Crew vans. Prices for vans like these do vary, but we can offer a discount on some models if you make an advanced booking. We also have Fridge and Freezer vans for hire if your cargo requires temperature-controlled movement. Hire prices start from as little as £127.71 per day, and we can cater to specific requests such as standby sockets and dual compartments.
Private van hire in Leeds
If you are in Leeds and need to hire a van for private use, please get in touch. Our vans are available for hire for a minimum of 24 hours or more depending on your requirements, and most only require a standard UK driving licence.
One of the most common reasons to hire a van is to move home. If this is why you require an LCV, then the Luton Van is the perfect choice for transporting furniture and possessions with ease. They are spacious and come with a tail lift, which makes loading bulkier items a lot easier. For smaller house moves a Transit still provides a great deal of space – it is worth checking the length of any larger items you have before hire to ensure everything fits safely and securely.
We're here when you need us
Whether for personal or business use, the Nationwide hire team is here to help whatever your van requirements. We are on hand to answer any questions you may have, make suggestions and offer advice if needed. We recommend you always familiarise yourself with the vehicle before driving on the day of hire and suggest you have checked out the route as well as any parking or height restrictions. If you intend to carry a lot of weight on board, check any payload restrictions the vehicle has; it is a legal requirement to keep within these limits, and you can face a penalty should you not adhere to these limits.
If you need any more information about hiring a van in Leeds, please do get in touch. Our friendly sales team is available seven days a week on freephone 0800 5244 780. Alternatively, you can talk to us online via our home page chat portal during opening hours.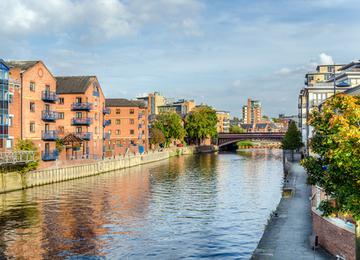 Vans to hire throughout the city and suburbs of Leeds
We provide van and vehicle hire throughout the city of Leeds and the areas of Horsforth, Chapel Allerton, Beeston, Roundhay, Headingley, Alwoodley, Bramhope, Otley, Meanwood, West Leeds Village, Rodley, Calverley, Moortown, Pudsey, Guiseley, Adel, Oakwood, Northern Quarter, Holbeck, Kirkstall, Armley, Wharfedale, Harewood, Wetherby, Rawdon and more.
Our service includes the delivery of the rental vehicle to your preferred address and collection of the vehicle at the end of the hire period.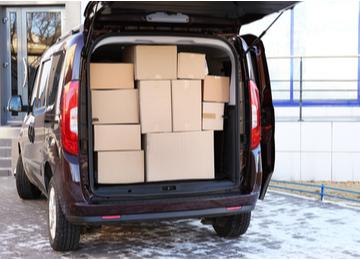 The best removal van for your move in Leeds
Well, the Luton 3.5 ton van offers 600 cubic feet, but if you are licensed to drive the 7.5 ton Luton Box Van it means you double the capacity to 1200 cubic feet which could mean the difference if you are hiring a van to move home in a single trip as opposed to a few runs between your old and new home.
So, save time and effort if you are able to hire the 7.5 ton Luton truck.
And don't forget to hire a van with a tail lift – just let the van do all the hard work.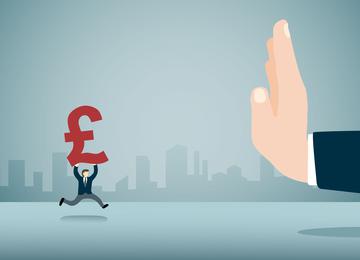 Van hire in Leeds with no credit card deposit
Nationwide Hire offers van hire in Leeds on a short, medium or long term basis with no deposit and offer a delivery and collection service that is the ultimate in convenience.
Our Leeds customers are people who want to hire a van just for a day or two or longer rental periods. We hire out to businesses, fleet managers, couriers, delivery drivers, families, holidaymakers, and individuals who need to get from A to B with the minimum of fuss and maximum choice of vans to hire.