Truck Hire Sheffield
All you need to know about hiring a truck in Sheffield
Not only is Sheffield the fourth biggest city in England but also the only UK city with a National Park within its boundary, making it a popular destination for outdoor enthusiasts and alike. In addition, Sheffield is a hive of activity from a cultural perspective, with a vast array of museums, galleries, and theatres. It also boasts a booming nightlife and a name for producing some of the best musical talents in the UK.
Once known as the 'Steel City', Sheffield is still recognised for its industrial past and rich manufacturing heritage. Although recent years have seen a massive decline in manufacturing in favour of other, growing industries, Sheffield continues to have a higher proportion of manufacturing jobs than its more economically successful rivals. As a result, it remains a vital player in manufacturing, and global names like Boeing and Rolls-Royce benefit from the city's advanced and modern production. On top of that, its huge regeneration and economic plans also mean bright and exciting times ahead for the region.
From a truck driver's perspective, though, Sheffield may not seem as inviting. Sheffield is modelled on Rome and situated on seven hills with narrow valleys between the hills, which can get easily snarled up with traffic. The sharp gradients mean slow speeds, and careful driving is a must, and the lack of dual carriageways can also add to travel times for HGVs. It's also worth noting that the M1 only serves half the city; the three most direct routes to Manchester are single carriageways and, although under 40 miles away, can take hours to navigate with the growing amount of traffic.
With all this said, though, Sheffield, like all other cities, still has the same transport requirements, and whether your business is in haulage, or you require something transported to you, there may be a need for HGV hire.
Truck (or lorry)* hire in Sheffield
Over the last few years, truck rental and leasing have become much more popular within industries such as logistics and haulage, with more companies opting to rent a vehicle over purchasing one. Benefits like coping with seasonal demand and doing away with vehicle service and maintenance make hiring a much more efficient and cost-effective option for many businesses, which is why many rely on companies like Nationwide Hire.
In the UK, a lorry (or truck) is a vehicle that falls into one of three categories:
• Smaller 2-Axle – over 3.5 and up to 7.5 tonnes
• Bigger 2-Axle – over 7.5 and up to 18 tonnes
• Multi-Axle (3 to 6 axles) – ranging from 25 tonnes to 44 tonnes.
* If you're slightly confused about whether it's referred to as a lorry or a truck, it's worth noting that lorries in the UK classification also qualify as trucks. However, for the same reason, not all trucks are lorries, as some do not meet the UK lorry specifications.
Truck hire in Sheffield from Nationwide Hire UK
If your business is Sheffield-based and you're looking to hire a large goods vehicle, Nationwide Hire is here to help. Our trucks range in size, and we have a large fleet available depending on your requirements, from the more basic 3.5 Tonne Tipper Transit Truck to the larger 44 Tonne Sleeper Truck. We offer flexible hire options, so we can accommodate your requests whether you need the truck for a day, a month, or longer-term. In addition, we also offer a FREE drop off and pick-up service, a 10% rental discount to business customers if insuring through a current company policy, and a potential 30% off hire if booked more than 24 hours in advance.
Our vehicle fleet includes:
Ford Luton 3.5 Tonne Tail Box Lift Truck (or similar)
3.5 Tonne Tipper Transit Truck (or similar)
7.5 Tonne Box Truck with Tail Lift (or similar)
7.5 Tonne Curtain Side Truck (or similar)
7.5 Tonne Dropside Truck (or similar)
7.5 Tonne Tipper Truck (or similar)
7.5 Tonne Sleeper Tail Lift Truck (or similar)
18 Tonne Box Truck (or similar)
44 Tonne Sleeper Truck (or similar)
18 Tonne Curtainside Truck (or similar)
26 Tonne Curtain Side Truck (or similar)
All our vehicles are checked regularly, fully serviced and include comprehensive insurance and UK roadside assistance should you need it. You are permitted to travel to EU countries when you hire through us, and we ask that you let us know when you make a booking if you need to take the vehicle out of the UK.
We're also on hand to answer any questions you may have about any aspect of lorry and truck hire. For example, we can advise on the type of vehicle that would best suit your requirements, help with delivery and drop-off procedures, and many other aspects of the vehicle hire.
So, if you're based in Sheffield and looking to hire a truck, please do get in touch. The team at Nationwide Hire is here to help and is available seven days a week. Get in touch via freephone 0800 5244 780, or, if you prefer, you can talk to us online during opening hours via our online chat.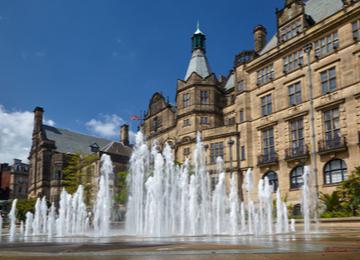 Truck to hire Sheffield and Yorkshire – commercial vehicle hire
We provide truck hire throughout the city of Sheffield and the suburbs of Attercliffe, Beighton, Burngreave, Chapeltown, Crookes, Crosspool, Darnall, Fulwood, Gleadless, Gleadless Valley, Grenoside, Handsworth, Hemsworth, Heeley, High Green, Hillsborough, Longley, Lowedges, Loxley, Malin Bridge, Manor Park, Meersbrook, Middlewood, Millhouses, Neepsend, Netherthorpe, Osgathorpe, Owlerton, Park Hill, Pitsmoor, Ranmoor, Sharrow, Stannington, Tinsley, Totley, Upperthorpe, Wadsley, Wadsley Bridge, Walkley, Westfield, Whirlow, Wisewood and Woodseats.
Our truck hire service includes the delivery of the rental vehicle to your preferred address and collection of the vehicle at the end of the hire period.
Our commercial vehicle hire in Sheffield and throughout Yorkshire includes standard 7.5-tonne box and tipper trucks, 18 to 26-tonne curtain side trucks, and 7.5 tonne to 44-tonne sleeper trucks. Our hire trucks feature a wide range of manufacturers including Ford, DAF, Scania, Mercedes, and Volvo.
Our customer base includes nationwide road haulage companies, builders merchants, landscapers, DIY, house removals, and commercial and refrigerated goods distributors. Businesses who hire from our range of trucks and commercial vehicles have the option to use their own company insurance.
What does the unladen weight of a vehicle include?
The unladen weight of any vehicle is the weight of the vehicle when:
it's not carrying any passengers, goods or other items.
It includes the body and all parts normally used with the vehicle or trailer when it's used on a road.
It doesn't include the weight of:
Fuel
Batteries in an electric vehicle - unless it's a mobility scooter or powered wheelchair
Maximum authorised mass or Gross Vehicle Weight (GVW)
Maximum authorised mass (MAM) means the weight of a vehicle or trailer including the maximum load that can be carried safely when it's being used on the road.
This is also known as gross vehicle weight (GVW) or permissible maximum weight.
It will be listed in the vehicle owner's manual and is normally shown on a plate or sticker fitted to the vehicle.
The plate or sticker may also show a gross train weight (GTW), also sometimes called gross combination weight (GCW). This is the total weight of the tractor unit plus trailer plus load.
Maximum Gross Weight MGW
An acronym and term that you might find on a bridge dictating weight limits as in the picture above.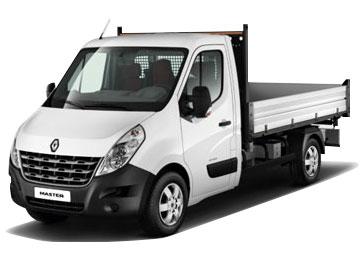 Hiring a 3.5 ton tipper truck in Sheffield?
If you are hiring a 3.5 ton tipper truck, don't think that every tipper truck has the same payload weight.
It varies from manufacturer to manufacturer and there is no guarantee that the same brand does not differ as each "latest model" is released.

Safety is of course the primary concern with the obvious dangers of overloading and then the penalties incurred if stopped by the Driver and Vehicle Standards Agency ( DVSA ).
The DVSA carry out tests to make sure lorries, trucks and buses are safe to drive, carry out roadside checks on drivers and vehicles which include checking for overladen vehicles.
Our 3.5t Tipper trucks for hire come from a range of manufacturers with a range of engine sizes, varying levels of comfort, and also variable payload weights.

Just some of the factors affecting the allowed payload weight of the 3.5-ton tipper truck are the weight of the tipping gear, the chassis mass, and the long and short wheelbases that affect the tipper body mass.
Resulting payloads between manufacturers can vary by up to 300kgs with all the pro's and cons of price, fuel economy, volume, comfort, and in an industry that demands a lot from its trucks, the cost of spares.
In days of old, (20 years ago even)the payload of a 3.5-ton tipper truck was higher delivering up to 1,700kg.

This payload has now reduced to between 1,060kg up to 1,349kg.
What has driven this reduction in payload has been offset by increased safety and comfort, After all, nowadays when you are parting with the best part of £30k to buy a 3.5-ton tipper truck or indeed hiring one, who wants an uncomfortable ride.