Truck Hire Leeds
All you need to know about hiring a truck in Leeds
Economically strong and culturally pleasing, Leeds is probably one of the best-known cities in the UK and certainly one of the most vibrant. Famous for Ernie Wise, fizzy drinks and x-ray technology, Leeds also excels in music, sports, arts, and politics. Bands such as the Kaiser Chiefs, Soft Cell and The Sisters of Mercy all hailed from mighty Leeds whilst First World War Prime Minister Henry Herbert Asquith was born in Morley.
Called the first motorway city, Leeds is the meeting point of two major motorways and was the first UK destination to construct a motorway through the city centre. The inner ring road, which incorporates the short motorway stretches of the A58(M) and the A64(M), is a major route that was developed to help make Leeds a more attractive location. Like many of its Northern and Midlands counterparts, Leeds' manufacturing industry declined in the 60s, so the transport network was devised to show that the city was 'open' for trade and had the infrastructure to accommodate it.
Leeds has a rich industrial history. From an economic point of view, it has the most diverse economy of all the UK's leading employment centres and is the fastest growing city. As the UK's largest city region outside of London, it offers an independently thriving economic centre. Sectors such as Financial and Professional Services and Manufacturing continue to go from strength to strength. Long-term investment projects such as HS2 and the northern hub mean future journeys will be easier, faster, and more reliable. This better connectivity will also bring a multi-billion pound boost to the Leeds City Region economy and along with countless new opportunities for businesses and employment.
Public transport aside, if you're driving in Leeds there are several considerations you'll need to factor into any journey. The Leeds City Centre Loop Road is approximately two miles within the city centre of Leeds and one-way traffic only. It encircles a large section of the shopping and retail district, and although having 18 junctions, it can be difficult to navigate once you are on it. Furthermore, much of the inner-city centre is due to be pedestrianised in 2022, so this will have further impact on this road and on deliveries and loading and waiting times.
The East Leeds Orbital Route may also pose some problems now it's in phase 3; building the new 7km route linking the existing Orbital Ring Road at Red Hall to Thorpe Park Junction 46 of the M1. Leeds City Council is leading the development of ELOR, which aims to East Leeds Extension to create a significant strategic growth area for the city. But obviously, with any new transport route development comes roadworks, which may cause delays and require diversions whilst the work continues. In addition, the proposed HS2 route through Leeds cuts through several housing estates, takes out several business buildings and cuts across motorways. Again, this will inevitably cause years of disruption and delays whilst the demolition and construction take place.
Truck (or lorry)* hire in Leeds
Truck rental and leasing have become much more popular within the last few years, especially within logistics and haulage industries where companies historically owned their fleet. Now, more companies are opting to rent a vehicle over purchasing one to exploit benefits such as coping with seasonal demand and eliminating vehicle service and maintenance costs. From this perspective, hiring is a much more efficient and cost-effective option for many, and that is why businesses rely on companies like Nationwide Hire.
In the UK, a lorry (or truck) is a heavy goods vehicle that falls into one of three categories:
• Smaller 2-Axle – over 3.5 and up to 7.5 tonnes
• Bigger 2-Axle – over 7.5 and up to 18 tonnes
• Multi-Axle (3 to 6 axles) – ranging from 25 tonnes to 44 tonnes.
* If you're slightly confused about whether it's referred to as a lorry or a truck, it's worth noting that lorries in the UK classification also qualify as trucks. However, for the same reason, not all trucks are lorries, as some do not meet the UK lorry specifications.
Truck hire in Leeds from Nationwide Hire UK
If your business is based in or around Leeds and you're looking to hire a heavy goods vehicle, Nationwide Hire can help. We have a large fleet available and a wide range of trucks to suit most requirements, from the Ford Luton 3.5 Tonne Tail Box Lift Truck (or similar) for removals to the 44 Tonne Sleeper Truck for more oversized, longer haul cargos. We offer flexible hire options and can accommodate most requests whether you need the vehicle for a day, a month, or longer. In addition, we also provide a FREE drop off and pick-up service where possible, a 10% rental discount to business customers if insuring through a current company policy, and potentially 30% off hire if booked more than 24 hours in advance.
Our vehicle fleet includes:
Ford Luton 3.5 Tonne Tail Box Lift Truck (or similar)
3.5 Tonne Tipper Transit Truck (or similar)
7.5 Tonne Box Truck with Tail Lift (or similar)
7.5 Tonne Curtain Side Truck (or similar)
7.5 Tonne Dropside Truck (or similar)
7.5 Tonne Tipper Truck (or similar)
7.5 Tonne Sleeper Tail Lift Truck (or similar)
18 Tonne Box Truck (or similar)
44 Tonne Sleeper Truck (or similar)
18 Tonne Curtainside Truck (or similar)
26 Tonne Curtain Side Truck (or similar)
All our vehicles are regularly checked, come fully serviced and include comprehensive insurance and UK roadside assistance should something happen. You can travel to EU countries when you hire through us. We ask that you tell our team when you make a booking if you plan to take the vehicle out of the UK.
We're happy to answer any questions you may have about any aspect of lorry and truck hire. We can also advise the type of vehicle you may need or any other requirements you may have, help with delivery and drop off procedures, and other aspects of the vehicle hire.
So, if you're based in Leeds and looking to hire a truck, please do get in touch. The team at Nationwide Hire is here to help and is available seven days a week. Get in touch via freephone 0800 5244 780, or, if you prefer, you can talk to us online during opening hours via our online chat.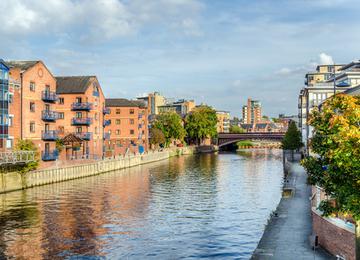 Truck hire Leeds and Yorkshire
We provide truck hire throughout the city of Leeds and the areas of Horsforth, Chapel Allerton, Beeston, Roundhay, Headingley, Alwoodley, Bramhope, Otley, Meanwood, West Leeds Village, Rodley, Calverley, Moortown, Pudsey, Guiseley, Adel, Oakwood, Northern Quarter, Holbeck, Kirkstall, Armley, Wharfedale, Harewood, Wetherby, Rawdon and more.
Our truck hire service includes the delivery of the rental vehicle to your preferred address and collection of the vehicle at the end of the hire period.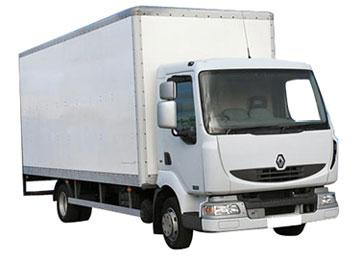 Truck hire Leeds - Commercial vehicle rental in Yorkshire
Nationwide hire commercial vehicles throughout Leeds including standard 7.5-tonne box and tipper trucks, 18 to 26-tonne curtain side trucks, and 7.5 tonne to 44-tonne sleeper trucks.
Our hire trucks feature a wide range of manufacturers including Ford, DAF, Scania, Mercedes, and Volvo.
Our Yorkshire customer base includes nationwide road haulage companies, builders merchants, landscapers, DIY, house removals, and commercial and refrigerated goods distributors.
Businesses who hire from our range of trucks and commercial vehicles have the option to use their own company insurance.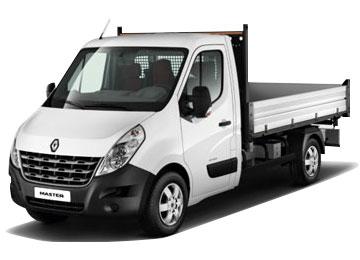 Hiring a 3.5 ton tipper truck? - Know your payload weight.
When hiring a 3.5 tipper truck, be aware of the maximum payload with the obvious dangers of overloading and also the penalties incurred if stopped by the Driver and Vehicle Standards Agency ( DVSA ).
The DVSA carry out tests to make sure lorries and buses are safe to drive, carry out roadside checks on drivers and vehicles, and monitor vehicle recalls.
Our 3.5t Tipper trucks for hire come from a range of manufacturers with a range of engine sizes, varying levels of comfort, and also variable payload weights.
Just some of the factors affecting the allowed payload weight of the 3.5-ton tipper truck are the weight of the tipping gear, the chassis mass, long and short wheelbases affecting the tipper body mass.
Resulting payloads between manufacturers can vary by up to 300kgs with all the pro's and cons of price, fuel economy, volume, comfort, and in an industry that demands a lot from its trucks, the cost of spares.
In days of old, (20 years ago even)the payload of a 3.5 ton tipper truck was higher delivering up to 1,700kg.

This payload has now reduced to between 1,060kg up to 1,349kg.
What has driven this reduction in payload has been offset by increased safety and comfort, After all, nowadays when you are parting with the best part of £30k to buy a 3.5 ton tipper truck or indeed hiring one, who wants an uncomfortable ride.