What to do in the event of an accident

Would you know what to do in an accident? It's a simple question you have probably been asked before, and many of us think we would be fine. However, it may not be surprising to hear that many people leave the scene of a collision without having taken the information they need.
If you are involved in an accident whilst driving even if it is only minor or not your fault, try to remain calm and follow these key steps to ensure any claims are dealt with easily. This is especially critical if you are driving a hire or courtesy car as you won't be the person dealing with the claim.
1. Stop
You must stop your vehicle as soon as possible after an accident no matter how minor you believe it is. Failing to do so or leaving the scene is an offence under the Road Traffic act and you can be prosecuted. Pull over to the side of the road if that is possible and turn off your engine. Switch your hazards on to alert other road users.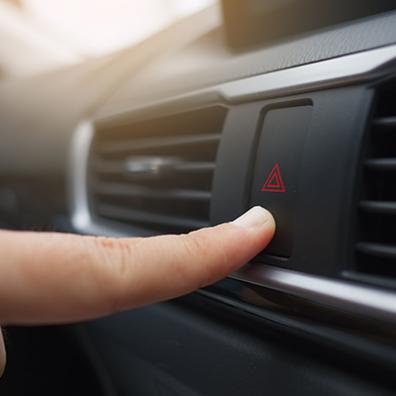 Put your hazards on as soon as possible after an accident
2. See if anyone is injured
Check for any injuries to yourself and any passengers in the vehicle and call the police or an ambulance if necessary if anyone is hurt. If it is a minor collision and no one is injured, it's worth making a note of this just in case of any injury claims further down the line.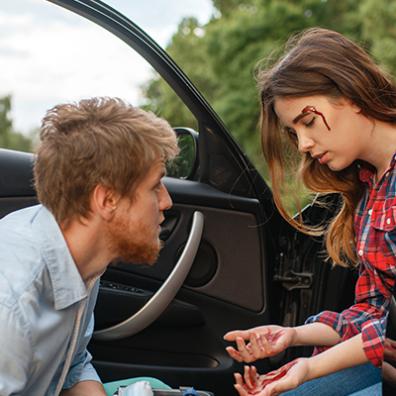 if anyone is injured you should call the police and an ambulance if required
3. Call the police if you need to
You must contact the police if the road is blocked or anyone is injured or if a cyclist or pedestrian is involved. However, you should also call the police if anyone tries to leave the scene of an accident without giving their details or if you suspect foul play such as the other driver has been drinking or you believe the accident was caused deliberately. Crash for cash scams happen when people stage accidents to profit from fraudulent insurance and injury claims. Dash cam footage can help in a case when you suspect you've been a victim of one of these fraudsters.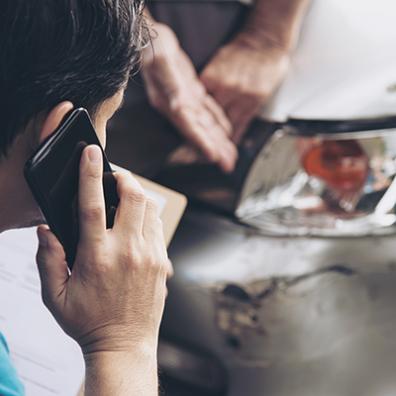 Inform the police in the event of a bad collision or if you suspect foul play
4. Exchange details
When you've been involved in an accident you need to exchange details with anyone involved in the accident including any witnesses. Even if you hit a parked car with no driver, you must leave your details on the windscreen. Details should include name, address, telephone number, vehicle registration number. If you can get insurance details or establish the name of the registered keeper this is also useful. Avoid apologising or admitting blame as this could count against you later on.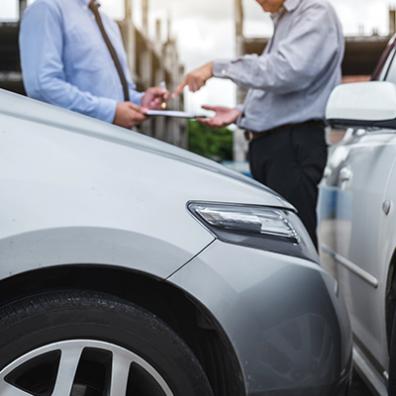 Details you need to get include name, address and vehicle registration number
5. Collect as much information as you can
As well as the contact details of anyone at the scene it's worth making note of other aspects of the accident:
• Get the make, model and registration of the vehicles involved.
• Record the exact time and date of the accident.
• Note down the surroundings such as parked cars or obstructions that may have contributed to the collision.
• Take note of the weather and road conditions.
• Sketch the road layout and positions of the vehicles involved.
• List the damage you can see to any of the vehicles involved.
• If you have a camera on your phone take as many pictures as you can of the damage and the road where the accident happened.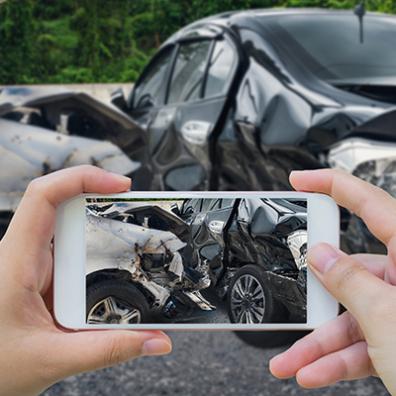 If you have a phone with a camera you can take photos of the damage
6. Check your vehicle is drivable
Even if it is only a minor collision, make sure you don't continue your journey without checking the vehicle over. Look for any signs of damage to the oil, fuel or water tanks. Drips or stains in the road or under the car can be a sign they have been compromised. Check lights and indicators are functioning – brake lights especially if the damage is to the rear of the car. Check your brakes are responsive and there are no unusual sounds when you turn on the engine or move off. And finally, check the wheels are not bent or damaged in any way, and your tyres are still inflated.
In the event of the vehicle not being drivable, you will need to have your vehicle removed. Many comprehensive car insurance policies will automatically include towing to the nearest repairer or safe location if an incident occurs, but you should always check your policy documents to see if you are covered. If you're driving a hire vehicle you should contact the company immediately after the accident and they will advise you how to proceed.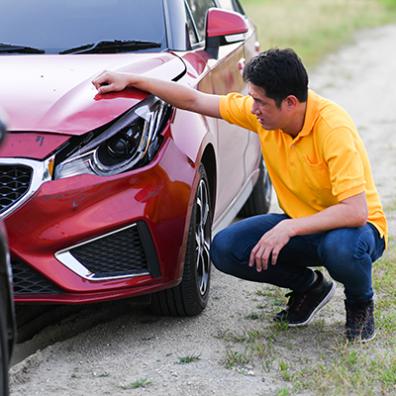 Always check your vehicle before driving away after an accident
7. Supply all the information to the relevant bodies
Once the dust has settled you will need to make a claim. Pass on all the information you took at the scene of the accident as well as any dash cam footage or photos you may also have. Make sure you tell your insurer about the accident as soon as you can. Failure to do so may invalidate your cover. Insurers' time limits can vary, so check your policy. You should always report an accident even if you don't want to make a claim.
It's worth mentioning that the Road Traffic Act states that you must report an accident to the police within 24 hours of it occurring. You can do this by calling 101, the police non-emergency number.
In the event of an accident in a hire vehicle ensure you pass on all the information you collected at the scene of the collision to the hiring company so they can pursue the claim as a business. If you are the named driver on the car you will be fully insured, however, most companies have an excess that must be paid in the event of an accident. At Nationwide, all supplied vehicles are subject standard Excess is £1000 + VAT for cars, vans and buses and £2000 + VAT on all 7.5-tonne vehicle and above. It's worth considering a purchasing a Collision Damage Waiver (CDW) when hiring a vehicle as it can substantially reduce excess charges. Always check with your own insurer when you hire a vehicle as if you have a comprehensive car insurance policy that covers the use of a hire car, then, you may not need to pay the additional cost of an excess reduction.
If you have a collision with someone driving a hire vehicle, that company may want details from you. Ask your insurers about who you should contact if you are in doubt.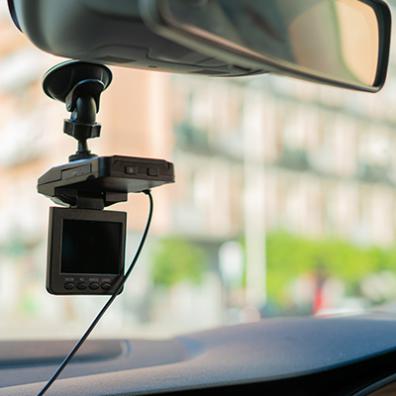 Dash cams can help establish what happened and who is at fault