The UK's Best Tech Conferences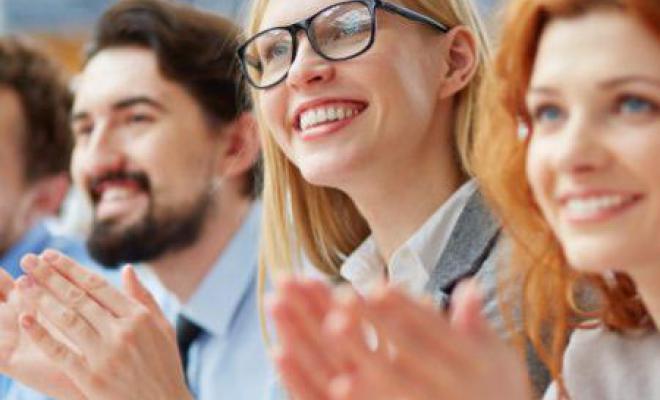 The UK's Best Tech Conferences

Each year there are thousands of technology conferences worldwide, covering hundreds of different markets and industries. The UK is a world leader in many tech-based industries and is home to some of the most popular and well-attended gatherings outside of Silicon Valley.

From networking opportunities to spectacular keynote speakers, the world-class conferences discussed here cover all areas of the sector; we take a look at some of the most popular public conferences and meetings to those reserved for niche areas of the market. The UK's own technology industry is a world leader and inspires collaboration and competition from the world's top companies.

If you're looking to be inspired by your peers or the leading industry professionals, or simply wish to keep an eye on new developments and ideas in this revolutionary sector, there's a perfect conference out there for you. Whether you're looking to showcase your own inventions and technologies or meet experts from your sector, you'll discover a conference and event within the UK covering every possible market.

The Europas

Established back in 2009, and held annually in London each June, The Europas are the celebration of the best new startups from across Europe. With more than 20 award categories spanning a wide range of different solutions, the Europas are fun, competitive and voted on by the community; to gain the backing of your peers make this an especial favourite among new and recent startups.

Held across just one day, the Europas is also a premier source of networking, as the glitterati of tech are in attendance – the first part of the day affords a fun conference, regularly attended by upwards of 1,000 major players in the industry, while the evening sees the awards show and high-end after-party! Speakers are invited from across the globe to share new developments and innovations from existing tech giants as well as plenty of opportunity for newcomers to showcase their companies. Discussion groups allow everyone to get involved, while the restricted numbers mean that networking is focused and driven throughout the event. This isn't widely open to the general public, so an invitation to the Europas is highly sought after.

The awards themselves usually feature up to 10 startups nominated in each category (companies can nominate themselves or be put forward for an award); with a majority of attendees there to encourage new innovation, it's a perfect conference for those wishing to get a foothold in the industry and to speak with their peers.

The event has expanded significantly since its humble origins in a Bermondsey bar! Today it celebrates the cream of British and European innovation, and attracts some of the world's biggest companies, with recent presenters including the likes of YouTube, Google and leading industry journalists. Big winners have included popular applications and developers such as Mind Candy and Soundcloud, while inaugural winners included the then little-known Spotify, which has since become one of the world's best known streaming music services.

Cloud & DevOps World

From early pioneering developments to an industry now estimated to be worth tens of billions of dollars annually, Cloud infrastructure is a booming and ever-expanding business, with many big players across the globe. Increasing numbers of businesses and industries are committing resources into the Cloud, forsaking their own previous reliance on local hardware to take advantage of the many benefits and shared opportunities that the Cloud provides.

One of the major annual events for this part of the industry is Cloud & DevOps World, held each June at London's Kensington Olympia. Previous events have mainly been concerned with the implementation side of the business, but 2016 onwards sees a shift in focus to making the most of the opportunities a Cloud solution affords, from technological, economic and business perspectives, and to see how the industry can be driven forwards in the near future.

Speakers are drawn from a wide range of sectors, reflecting the growing influence and impact of the Cloud, from retail giants to banks and the economic sector to huge multinational corporations. Recent keynote speakers have included representatives from Twitter, Google, Sky, HSBC, the betting industry and many more.

Wearable Technology Show

One of the most intriguing and fast-moving parts of the tech sector concerns wearable technology. From smart watches to clothing capable of reacting to your environment, wearable tech is gaining a foothold in the market, and is especially popular in the young adult market.

Delegates at the annual Wearable Technology Show can experience discussions, talks and a huge program showcasing the latest innovations and gadgets from the world's leading manufacturers. From smart devices to virtual reality, speakers gather to discuss their passions and new company directions, and delegates can attend workshops and inspect new developments first-hand. The talks cover all aspects of the industry, including commercialisation, the technology of each component, new and evolving application development and devices aimed at both consumer and business markets.

The two day event is held each March at London's ExCel arena, and regularly attracts upwards of 5,000 delegates and presenters. 2016's event saw showcases from a diverse mix of sectors such as technology for smart homes, healthcare, augmented reality and performance sports. The 2017 event promises to be the biggest yet, featuring over 200 speakers, and is a must-attend for anyone working within this area or with a keen interest in wearable technology and its vast range of applications.

Gadget Show Live

From wearable technology to the entire diverse spectrum of tech innovation comes the Gadget Show Live annual event. Proud of its deserved reputation as the UK's major consumer exhibition for the technology sector, this annual event takes place in early April at Birmingham's famous National Exhibition Centre (NEC) and spans several days.

Based of course on the popular Channel 5 show of the same name that's been running since 2004, the exhibition was held for the 8th time in early 2016 and again proved immensely popular; exhibitors and speakers came from a huge array of industries, showcasing the latest in consumer gadgets, new technologies and products at the cutting edge. Not only could visitors test out the latest market products, many were available to buy. Among the most popular new models on show were drones, action cameras, innovative music speakers and much more.

Of course, many attendees roll up to take in the dynamic exhibits and features; these include a "Super Theatre", an interactive show presented by the TV crew, while there are many themed zones devoted to products and innovation in various arenas, including toys, gaming, robotics, the popular "Battlefield Live" zone, and "The HUB".

One of the best parts of the Gadget Show Live is the chance to meet product designers and salesfolk and get to grips with many new gadgets and gizmos at the start of their product lifetime. Some 75,000 attendees flock to the NEC each year for the event (many returning annually), and there's more than enough to keep even the most rabid tech fan happy across a range of areas.

London Technology Week

Each June sees one of the UK's biggest events in any area of business, London Technology Week (LTW). As the name suggests, it is a weekly showcase featuring hundreds of individual events, all of which add up to make one giant techfest. Pretty much every sector and industry is represented in one form or another, with events taking place at a wide range of venues across the city, from intimate workshops and bars to conference halls.

Unlike many organised conferences, each event takes on a life of its own, while remaining under the overall LTW umbrella. The event organisers are free to source their own venues, and decide on individual pricing structures – many are free to attend, including those of either mass-market or niche appeal. Industries covered range from creative and advertising technologies, data, design, health and medicine, education, marketing, intelligent ecosystems, multimedia fashion and travel.

The diverse events are put on by companies from around the world, and attendees can obviously move around the various venues as they wish, taking in any exhibition, talk or demonstration they are interested in. It is the largest coming together of the global technology industry in the UK each year and has been running in its present form since 2014. It allows organisations and businesses of all sizes to get involved, from multinationals to solo business ventures and entrepreneurs. As with the presenters and exhibitors, attendees come from all walks of life, whether it's industry professionals, students, the general public, inventors or company reps.

LTW is one of the capital's most vibrant events for the tech community and attracts attendees from across the globe, all keen to experience cutting-edge developments in a friendly atmosphere.

Devoxx UK

In addition to the broad appeal of many national and global conferences, there are hundreds of events and fora catering for those working in specific areas of the tech world. A prime example of this is the Devoxx conference, which is aimed specifically at developers working with the Java programming language. One of the world's most popular languages, Java has an estimated developer base in excess of 9 million and is used across numerous platforms and applications and in all types of private, commercial and educational sectors.

Devoxx UK is the UK's major independent conference for the Java community and is attended by upwards of 1,000 programmers each year. The event is held in June at Islington's Business Design Centre, and is based around both hands-on programming work and talks and exhibits aimed at inspiring future developments and showcasing new Java applications.

In 2016, the event included more than 100 individual sessions, with attendees from over 30 countries. The UK conference is a spin-off of the wider Devoxx event which has been running since 2001 (it was known as JavaPolis until 2006), and which has numerous incarnations; there are Devoxx events in various countries and even an event for junior programmers. 2016 saw events in France, Poland, Belgium and Morocco among others, and the first US event is set for March 2017 in San Jose.
DroidCon

Like Devoxx, DroidCon is also held in Islington at the Business Design Centre. It is Europe's premier and largest conference for android developers, and covers all applications of the operating system, from smart glasses and wearable tech to augmented reality and Cloud computing.

Although smaller than many of the major technology conferences, DroidCon is no less important, and its participants' levels of enthusiasm are renowned. The event features upwards of 50 key speakers and experts presenting on their own developments and important news across the industry, while the exhibition also includes hands-on sections and gaming centres.

The 2016 event will be held in late October over two days filled with talks and exhibits. Previous years have seen some of the industry's biggest players showcase their latest innovations and also discuss future work and applications under development. The latest software and apps for android devices such as tablets and mobile phones are available to play with or download, and the event is also a chance to meet developers and speakers face to face.

Big Data Week

One of a series of events held across the globe, London's Big Data Week brings together key players and industry reps from a huge range of sectors to take part in talks, exhibits, workshops and seminars. 2016 sees two major international conferences, one to be held in Chicago, and the other in London as part of the overall festivities.

The events are interconnected, and bring together data visualisers, date scientists, businesses and other key players across a wide range of interests, from tech, business, social and financial sectors. Each of the individual venues across the globe will host seminars, hackathons, interactive presentations and demonstrations, talks and the chance to network with fellow professionals and enthusiasts. With participating cities across Europe, the Americas and the Far East, the event has quickly become established as the global showcase for Big Data and its applications.
The London conference takes place on October 27th and will feature key speakers from multinationals and industry leaders including Facebook, Google, Shazam and more. There will be representatives from industries as diverse as healthcare, personal finance and governmental agencies, all working with Big Data to serve a range of applications. More than 400 participants are expected to join the event, with parallel business and technology tracks enabling attendees to get the most from the day.

The ethos of the week and the individual events is to bring together data experts and professionals to chat, communicate and share ideas and knowledge for the benefit of all. We connect data professionals helping to facilitate the sharing of knowledge, new ideas about data. For example, some talks will showcase new and exciting ways in which Big Data and datasets are being used to open up new applications in the travel industry, or for retail or entertainment. The events also tend to promote the end-user applications and demonstrations ahead of the technology, so you'll experience the datasets and software in action before discovering more about the platform or technologies driving the data.

Learning Technologies

Although not specifically driven by technology, one of the most important annual conferences is Learning Technologies, run in conjunction with the Learning and Skills exhibition at London's Olympia. It has been taking place for some 16 years, and is organised by The Learning and Skills Group (LSG), a global community of more than 9,000 professionals interested in organisational learning and associated learning technologies.

The events feature discussions, talks and exhibits focusing on the key learning technologies used to manage development and learning in the workplace. The annual events usually attract around 1,000 attendees from various sectors, and provide huge opportunities for networking and collaboration with like-minded colleagues. The 2016 event featured more than 70 key speakers, alongside drop-in sessions, presentations, hands-on areas and other exhibits.

The exhibition and conference are driven by the community for the community, and cover a wide spectrum of interested parties, both public and private sector. Conference attendance also entitles you to free entry to the accompanying exhibition and membership of the LSG. This then entitles you to fortnightly webinars, and access to hundreds of existing papers, case studies and much more for the learning and skills community.

SpiceWorld

No, not the spin-off movie for the Spice Girls but an annual two day information technology conference held in London regularly since 2008. Billed as one of the most fun conferences for the industry, the event brings together hundreds of like-minded IT professionals, vendors and programmers for two days of inspiring talks, demonstrations and networking in central London. Speakers in 2016 were separated into IT pros and marketers, with talks focused on specific industry issues and goals.

The conference is renowned for its lively atmosphere and evening activities, and is certainly less stuffy than many similar shows, and is competitively priced to attract attendees from all sectors.