Ten best songs to drive home to at Christmas
This Christmas may be looking a little different but with the announcement of new COVID rules just for the Christmas period, many are now considering travelling to see friends and family to make the most of Christmas day.
As announced, up to three households will be able to meet indoors from 23-27 December and the expectation is that the start and end of this five-day Christmas travel window will be very busy all across the UK. There has already been talk of plans to run longer trains on the rail network and 500 miles of roadworks have been cleared on major motorways and A-road to ease congestion, but there is no doubt that this Christmas on the roads will potentially be as bad, if not worse than other years.
If you are considering a road trip this Christmas, then planning may be key. Whilst we wholeheartedly urge you to consider important decisions such as the time of day you travel, weather conditions and planned route, there is also one element that you most definitely should not forget. And that is the soundtrack for your journey! But don't despair. We've pulled together our top ten Christmas travelling songs to keep you and the family entertained no matter how long that traffic jam is. And, before you audibly sigh expecting Chris Rea's Driving Home for Christmas and a list of all the common Christmas favourites, expect a few surprises in our 2020 Christmas playlist.
To kick us off at number ten

Feliz Navidad – José Feliciano

With its simple Spanish chorus and equally simple English verse, this has become a firm favourite of ours and always has a spot in our top ten. One of the most popular Christmas songs to download for our stateside neighbours, it doesn't get as much airplay in the UK, but with music legends such a Jools Holland collaborating with José Feliciano to produce various versions, you know that this must be a worthy inclusion on any Christmas playlist.
In at number 9

Ok, so a song about war from a soldier's perspective may not be top in mind when you think of Christmas content. However, the Dub-a-dub-a-dum-dums on repeat throughout the whole of this upbeat tune are nothing short of addictive. You'd be hard pushed not to all sing along at the top of your voice.
A little love at number 8

The Power of Love – Frankie Goes to Hollywood

Despite having no reference to Christmas within the song lyrics, The Power of Love is often regarded as a Christmas song, due to its early December number one position for band Frankie Goes to Hollywood. However, the accompanying video featured the Nativity, and the single cover depicting The Assumption of the Virgin, this eerily beautiful ballad was also recorded by Gabrielle Aplin for the John Lewis Christmas advert in 2012 securing its place in many Christmas playlists for eternity. We love it for its hauntingly beautiful lyrics, strong instrumental backing track and ay, ay, ay, ay intro.
A firm number 7

The Crystals – Santa Claus is Coming to Town

An oldie but a goody. There are many versions of this song by huge artists such as Bruce Springstein (we love this version too) and Justin Bieber (not one of the best), but this 1963 version produced by Phil Spector conjures up images of old-fashioned stockings and matching jumpers and we defy anyone not to feel Christmassy just listening to it. The kids will love the little "Jimmy" intro and the sleigh bells jingling throughout are Christmas personified.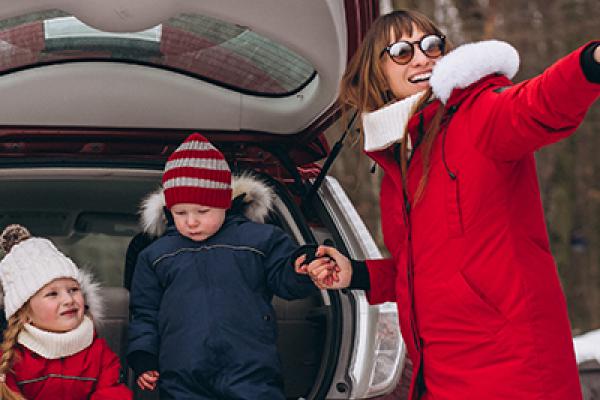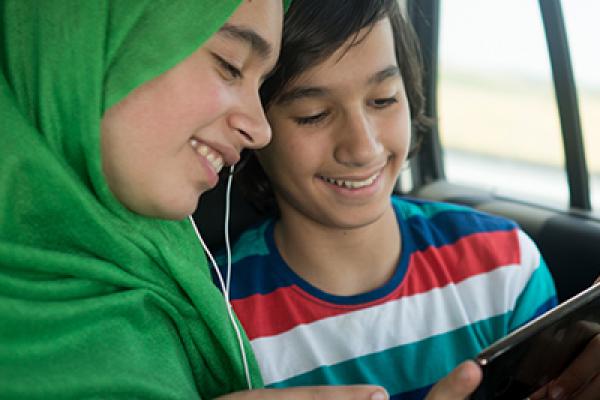 One for the kids at six

Hey! Chingedy ching, (Hee-haw, hee-haw) It's Dominick the donkey in at number seven. We guarantee this won't make it onto any other Christmas song list, but we just couldn't leave it off. It's catchy (or annoying depending on how many times you've played it) but we can just see everyone's head bobbing up and down in the car as you sing along to the tale of the Italian Christmas donkey. (La la la-la la-la la la la la) (La la la-la la-la la-ee-oh-da)
A bit of rock at number 5

Christmas Time (Don't Let the Bells End)

Released by British hard rock band The Darkness, this single was probably an attempt to follow in the footsteps of festive glam classics like Slade's Merry Xmas Everybody and Wizzard's I Wish It Could Be Christmas Everyday, and we think they did a tremendous job. With just the right amount of head rocking and attempts at the top note to make this a true sing-along song classic, it's definitely one that will keep you entertained on your journey.
A proper entry at number 4

Maybe one for when the younger children aren't in the car, but we love the catchy nature and cheeky lyrics in this Christmas offering. Proper Crimbo is a song from the comedy programme Bo' Selecta, performed by comedian Leigh Francis impersonating music celebrities such as Michael Jackson and Craig David. The video also included real-life celebrities such as Bob Geldof, David Gray and Holly Valance. One for the older kids to rap to on the back seat and the whole family to join in on the chorus.
White coats out at number 3

Another song on our list that wasn't intended to be a Christmas song at all but is now a classic. Inspired originally by singer, songwriter Tony Mortimer's brother, the sombre harmonies and inclusion of sleigh bells push this high up in any Christmas song top list. Some would also argue it's a contender for the top spot! This song with definitely have the whole family harmonising in the car whilst you wait for the lights to change.
A classic at number 2

Do They Know It's Christmas – Band Aid 1984

Although we promised a more unusual list of Christmas tunes, no car journey would be complete without the original Do They Know Christmas performed by music legends such as Sting, Bono and Simon Le Bon. Although this has been covered several times, none of the subsequent covers have ever had the same kind of impact and this will forever be one of the most important music contributions made in the last 40 years. Not only is it impossible not to sing along, we can almost guarantee you will naturally adopt a part and endeavour to do your best celebrity impersonation in the process.
And taking the top spot

Fairytale of New York – The Pogues and Kirsty MacColl

In our eyes there is no other contender for number one than this. Released on the 23 November 1987 this epic Big Apple-set fable is complete with profanity, despair and heartbreak yet ends with what we all want at Christmas, love. It has been criticised of recent for its use of derogatory words in the lyrics, yet it remains a staunch favourite at Christmas time and is regarded by us, and many others, as the best Christmas song ever written. We can imagine you now swaying side to side, belting this out at the wheel whilst you wait for the traffic to start moving again on the M25.