Refrigerated vans and why you might need one

A refrigerated van does exactly what it says on the tin. It's a van that offers onboard refrigeration for the cargo carried. Refrigerated vans, lorries, and trailers make up over 4 million of the vehicles being driven across the world today and play a critical part in many industries requiring the transportation of items that need reduced temperatures in transit.
Without vehicles like these, some supply chains would struggle as refrigeration is critical in many areas such as food storage, medical storage, and industrial processes. Take the COVID-19 vaccination as an example – the Oxford Vaccine needs to be transported and stored at domestic fridge temperature (2-8 degrees C) to ensure its integrity. Without a refrigeration van, this wouldn't be possible.
How do Refrigerated Vans work?

Refrigerated vans work in a similar way to domestic fridges. An insulated, airtight compartment absorbs heat then a condenser system removes that heat from the inside and dissipates it outside.

Unlike the refrigerators you find in your house, which you plug directly into a power supply, the fridge mechanism on a van uses a direct drive mechanism which powers the refrigerator system using the van's engine. Of course, if the vehicle is not running for a considerable amount of time this could cause a problem, so vehicles employed for longer journeys where they may have to be stationary or vans used for onsite catering, for example, generally power the unit via a separate generator.

In every refrigerated van you will find:

• A condenser. This is the strange dome on top of the vehicle that you may have wondered about. This device passes warm air over a condenser coil containing refrigerant tubes. The gas condenses into a liquid which then passes to the evaporator.

• An evaporator – This is inside the load space and looks similar to the condenser in appearance. The liquid that enters the evaporator through a valve and is evaporated at a low temperature as all heat is absorbed. Fans inside circulate air where the goods are stored which keeps the temperature cool and regulated. The gas produced then returns to the compressor.

• A compressor – This pumps coolant around the system and takes the gas from the evaporator compressing it into a hot, high-pressure gas. This gas is then pushed out of the condenser for the cooling cycle to start all over again.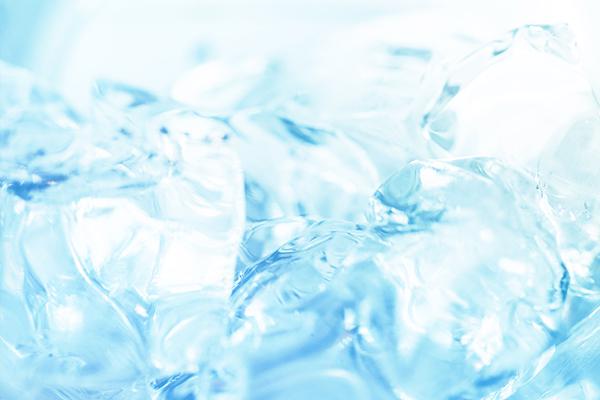 Anything that needs to be kept at temperatures below 0˚ – frozen foods or goods – require a freezer van.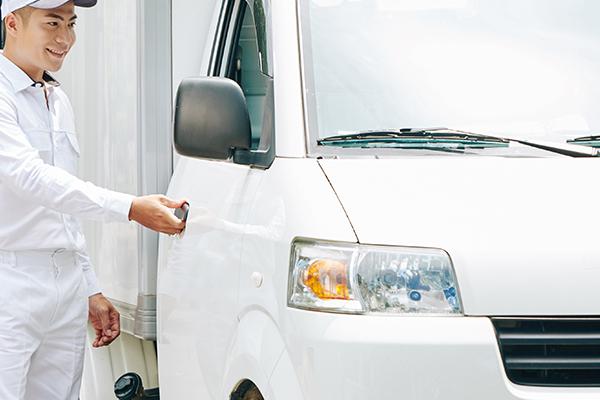 Refrigerated vans, lorries, and trailers make up over 4 million of the vehicles being driven across the world today.
Why is a refrigerated van different from a fridge?

Unlike household refrigerators which stay in the same place once they are delivered, refrigerated vans are built to travel outside for long periods of time in all types of weather. We all know how hot a vehicle can get during warmer months, so pair this with the heat a vehicle generates, and it becomes an inhospitable container for anything needing to be kept cool.

This is where insulation comes in. Possibly the most essential part of a refrigerated van, insulation prevents heat from getting inside the storage compartment. High-density polymer foam is most commonly used in refrigerated vans as it contains a large number of tiny air bubbles which prevent heat from getting in. In essence, the better the insulation the less heat is prevented from penetrating the inside of the cooling chamber.
What is the difference between a refrigerated and a freezer van?

Refrigerated vans are designed to carry goods that need to be kept at a temperature of 0˚C or above; goods that require a domestic fridge temperature which is considered perishable such as sandwiches, dairy, meats, seafood and fruits and vegetables.

Anything that needs to be kept at temperatures below 0˚ – frozen foods or goods – require a freezer van. These are built to achieve and maintain lower temperatures of up to -18˚C or lower.

You can also get dual temperature fridge vans. These tend to be customised conversions that allow for the freezer section to chill the fridge unit and are built with the customer in mind.
What type of refrigerated van is right for my business?

What you are carrying and what temperature it needs to be stored at will essentially dictate what van is right for you. Consider what you need a refrigerated van for; what temperatures do you require and how long do items need to be in the van? Mapping this out will help you make the decision as to which van is right for you and whether you need a freezer or a fridge unit on your van.

If you're not sure a refrigerated van is quite right for your business, you may want to consider an insulated only van. These have no refrigeration unit but are heavily insulated to keep the temperature cooler and consistent within the storage compartment. They are not ideal for transporting perishable goods but could be a good choice for businesses who may need the inside cooler than the outside. A good choice for florists or even dog sitters who may be transporting small pets from one place to another.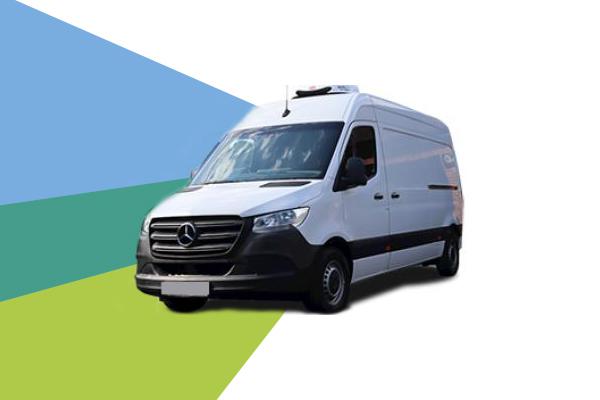 LWB Fridge Freezer Van available for hire at Nationwide Hire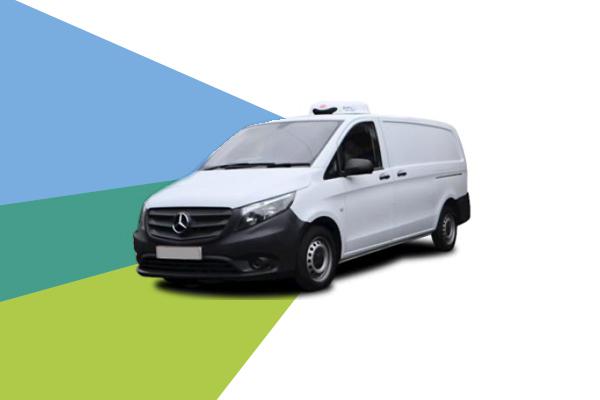 SWB fridge van available for hire at Nationwide Hire
Can I hire a refrigerated van?

If you need a refrigerated van for the short term or even long term, then hiring may be a more viable option than purchase and may also be more cost-effective. At Nationwide we offer a range of refrigerated and freezer vans depending on your needs. We can also accommodate specific requests such as standby sockets, dual compartments or min/max temperatures.

Our SWB Fridge Vans start at £140.28 including our current 20% discount (original price £175.60) for a one day hire. They have a payload of 700kg and can carry up to three passengers

We also have LWB Fridge Freezer Vans available for the same price as the SWB vans. These have a slightly larger payload of 800kg and accommodate three passengers.

If you require any information about hiring a refrigerated van or have any questions about any aspect of van hire, our friendly team is on hand to give you any help you need. Call us seven days week on 0800 5244 780, get in touch via our contact page or speak to one of our advisors via our online chat.