Navigating Europe's Premier Music Festivals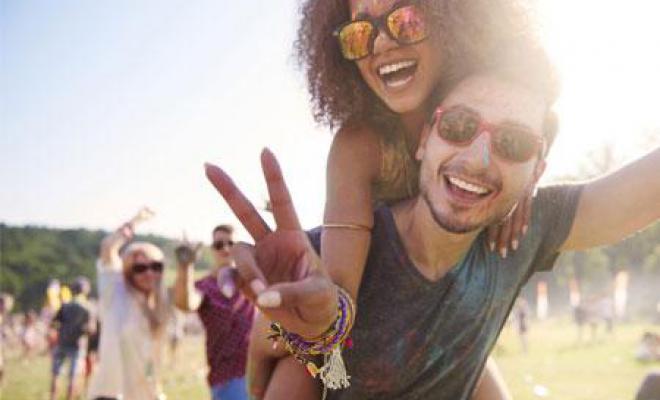 Each year, the UK and continental Europe play host to dozens of iconic music festivals and events. In this article we take a look at 20 of the best annual happenings, all easily accessible to UK motorists by car; from the celebrated mud of Glastonbury to the eco-friendly festivals of Paris and mainland Europe, each event offers a great time, diverse artists, and an atmosphere guaranteed to leave you wanting more. Whether it's dance, ambient music or good old fashioned rock and roll that floats your boat, there's something on offer for all.
Glastonbury (Somerset, UK)
Where better to start than arguably the world's most iconic yearly festival. 'Glasto' has been a British institution since 1970, and regularly attracts upwards of 150,000 people to its farmland site. It is the world's largest "greenfield" music event, and usually runs for five days in late June. It's noted for its eclectic mix of headline and smaller acts, and has even seen political speeches alongside comedy, music and performance art. The site is close to Pilton in Somerset, and is centred on a convergence of ley lines and ancient sites, making it a festival of choice for hippies and new age revellers as well as thousands of repeat visitors.
The event is covered on British and worldwide TV and radio, and attracts some of the world's most famous performers to its various stages – recent headline acts have included Bruce Springsteen, Muse, The Who and Katy Perry. Car parking at the event is plentiful, though care and prior planning is needed to ensure you approach the site from the side you intend to park. This will minimise your wait, as navigating around the enormous venue can be arduous without a little knowledge. If you prefer to leave your vehicle off-site, excellent train and local bus and coach services are available.
We Love Green (Paris, France)
An attraction gaining in popularity is the 'We Love Green' festival; sited just outside Paris, this is an eco-friendly event which not only features ambient and synth-pop music at its core, but also focuses on exhibitions, talks and demonstrations from the green community. An overarching theme each year is one of sustainability, with speakers and a central "think lab" designed to bring together leading names in the world of conservation and sustainability.
The two day weekend event is sited at Bois de Vincennes on the eastern side of Paris. No parking is available on site but there are plenty of car parks in the near vicinity. There is a huge diversity of guesthouses and hotels close by, and access to the site is straightforward, with restricted mobility and disabled visitors well catered for. There's a large, safe kids space which caters for 3-10 year olds and is very well supervised. One thing to bear in mind is that the site is "cashless", with all transactions charged to a wristband that you must purchase in advance and can be topped up on site or online.
Cambridge Folk Festival, Cherry Hinton, Cambridge
For a more relaxed and convivial feel, why not try the annual Cambridge Folk Festival. Located at Cherry Hinton on the outskirts of the city, this event draws back repeat visitors year on year. It takes place at the end of July, and has been held each year since 1965. Headline acts are drawn from a wide spectrum of folk-influenced music, with country music stars such as Emmylou Harris often featuring. Recent attractions have included the Levellers, Jake Bugg and Van Morrison.
The event capacity is around 14,000, allowing a more intimate feel to some of the gigs, which take place across two main stages and several smaller hubs. The event usually lasts three and a half days, and visitors can choose to camp on site or stay locally and travel daily. Accessibility is pretty good both on foot and by public transport, and the cost of local parking and a free return bus ride is included with each ticket. Car parks are situated around a quarter of a mile from the main stages.
Electric Castle (Banffy Castle, Cluj, Romania)
Mid-July plays host to Electric Castle, Romania's premier summer event devoted to technology, music and the arts. Named for the beautiful Banffy Castle in whose grounds the festival occurs, the event provides four main stages offering 24 hour music and dance to cater for party animals and insomniacs alike! The acts are an eclectic mix of contemporary and new-age electronica, with plenty to dance and groove to throughout the day and night.
The woodland areas offer a wide variety of attractions, including talks, balloon rides, cheap refreshment kiosks and camping grounds. Cars are not permitted on site under any circumstances so park locally and use the shuttle buses. Camping is however allowed for RV vehicles; this is an excellent festival for those touring in a larger vehicle with fixed beds. Visitors may enter certain parts of the castle as an added attraction. The festival area can be found off the main E576 route in the Cluj area of Romania, and is approachable from various main routes and highways.
Bluedot Festival, (Cheshire, England)
The serene surroundings of Jodrell Bank Observatory in the Cheshire plain come alive in July for the annual Bluedot Festival. Celebrating a strange, yet somehow meaningful, mix of space-age music and Manchester-infused raving, the festival is a strange concept. Despite its very recent establishment (2016 was the first event), it has already earned a place in the list of the UK's most iconic and must-visit musical events. Bluedot plays host to many electronic and dance artists who mingle and perform alongside science talks, exhibitions and the usual attractions of Britain's iconic observatory.
The event is easily accessible, just off the M6 motorway which threads its way across Cheshire. There are camping options galore, from RVs and pre-pitched tents to higher end boutique tents with hot tubs! Bluedot is family-friendly and attracts music lovers, astronomy folks and science geeks in equal measure! On leaving Bluedot, tourists can easily access the Peak District, the Lakes and Yorkshire, or head south towards Birmingham and London.
Isle of Wight Festival (Newport, Isle of Wight)
One of the UK's premier music events, the Isle of Wight Festival celebrates its 50th anniversary in 2018. The event ran for three years from its inception in 1968 to 1970, but the vast numbers of visitors that were attracted caused huge upheaval on the island. In 1970 the presence of such stars as Jimi Hendrix, The Who, Jethro Tull and The Doors attracted crowds reportedly in excess of half a million people; the following year Parliament was forced to pass legislation banning such events without special dispensation.
The festival was restarted in 2002, with crowds for the four-day event rapidly increasing each year and now surpassing 50,000 annually. It is celebrated as the premier visitor attraction of the island each June, and has won awards for its family-friendly atmosphere and for the calibre of performers it attracts. The island can be accessed by plane or ferry, with many opting to take the boat from Portsmouth or Southampton, and travelling either on foot or by car. Some of the island's roads are closed off during the festival but access is straightforward.Visitors can camp on site or stay at one of the island's many bustling hotels and guesthouses; plenty of other camping areas are also available.
Worldwide Festival (Sète, France)
The beach resort of Sète lies a few miles south west of Montpellier, and plays host each July to a week of music and cultural events known as the Worldwide Festival. Established by renowned DJ Gilles Peterson, the event is held on and around the beachfront, with music and dancing long into the night. Attractions are provided during the day too, with visitors mingling with locals to create a happy, laid-back atmosphere. Repeat visitors to the event are legion, thanks in part to the fabulous surroundings and Mediterranean sun. Many of the attractions are free courtesy of the beachfront setting, and it's entirely possible to sunbathe or swim in the Med while enjoying the diverse DJ sets and live performances.
One advantage to this festival is that it's easily accessible to all visitors by road and public transport, thanks to its proximity to Montpellier. The region is perfect for exploration during or around the event itself, offering a great mix of festival ambience and the delights of the French Mediterranean coast.
Awakenings Festival (Amsterdam, Netherlands)
Unarguably the Netherlands' most iconic techno events, Awakenings put on fabulous dance events and shows at the fantastic Gashouder building in Amsterdam. The yearly festival leaves the inside behind and takes to the Dutch countryside to bring open-air partying on a grand scale. Much of the revelry takes place at the Spaarnwoude Houtrak country club, which is split into numerous areas for the festival. The event often features more than 100 dance, electronic and urban artists, and attracts tens of thousands of revellers to its long weekend of partying.
The festival provides several packages, often including a hotel and festival entry as well as transport by complimentary shuttle from the various hotels and guesthouses available. The event is close to the heart of Amsterdam, and visitors by car can leave their transport safely at their hotel and travel to and from the festival easily. Amsterdam itself of course offers numerous attractions and sights for visitors of all ages and tastes, and is a great base for exploring the Netherlands and Western Europe on any road trip.
Reading and Leeds Festivals (Reading / Leeds, UK)
Late August sees the UK's second biggest rock music festival, split over two distinct sites in Reading and Leeds. The event started as a jazz festival in 1955, and was held at Reading each year thereafter, morphing into a celebration of rock and blues in the early 1970's. As the festival grew, the headline acts attracted larger crowds which would often result in congestion and occasional riots. To cope with demand, a second venue was added at Leeds in 1999, and after several years of teething troubles the northern leg moved to its permanent home at Bramham in 2003. Nowadays the event is well policed and professionally organised, with up to 100,000 revellers and rock fans enjoying the bank holiday weekend in relative peace!
Headline acts include some of the biggest stars in rock and blues, with recent years seeing performances from Metallica, Green Day and the Red Hot Chili Peppers; traditionally, the acts perform one headline show at each venue over the weekend. Most attendees stay on site, as there are plentiful camping areas; cheap daily and weekend car park passes are available to visitors, and each site is easily accessible from the motorway network.
Tomorrowland (Boom, Belgium)
July sees one of the world's biggest and best celebrations of electronic music, as the cream of the genre descend on Belgium's Boom for two weekends of mesmerising performances. The event began in 2005 and has expanded rapidly to become one of the most visited and respected events in the music festival calendar. The world's biggest electronic music DJs and performers regularly turn out to entertain the revellers, with headline acts including David Guetta, Armin van Buuren and Tiesto. The two weekends in 2017 saw a reported 400,000 pack out the venue across six days.
Most visitors stay at "Dreamville", the adjoining camping area which spans a huge area and includes a dozen diverse types of accommodation including tents, cabanas and fully equipped cabins. The campsite also has several shops, a barbeque area, laundry and shower facilities and plenty of eateries, giving it a community feel. Access to Boom is straightforward, with Belgium's E12 and A19 motorways bringing most visitors into the vicinity. Huge car parks are available at the site, and parking is included in the camping cost.
Download Festival (Donington Park, Derby, UK)
Arising from the ashes of the fabled Monsters of Rock festival, Download is now the premier annual rock attraction in the UK – and arguably the world. Attracting many of the biggest rock bands on the planet, including Guns 'n' Roses, Aerosmith, Black Sabbath and Iron Maiden among many others, the three day event takes place in early June at the huge Donington Park near Derby. It is a haven for rock and metal fans, many of whom visit year on year.
Access to the site is straightforward, via the M6 or East Midlands Airport. Local road links are very good, and there are car park passes available at around £25 for the duration of the event. Two giant car parks are located adjacent to the site, and can cope with the huge volume of traffic. There are lots of camping areas, including a designated quiet zone where the playing of music is forbidden after midnight and is better suited to those attending with younger families. The main camping grounds are active 24 hours a day and contain lots of shops, food outlets, showers and entertainment, all available throughout the duration of the event.
Creamfields (Daresbury, UK)
One of the world's most prestigious and respected dance music festivals, Creamfields is held each August over a four day period. It landed in its current home, Daresbury, in 2006 after being held at various venues around the UK following its inception in 1998. The franchise has extended worldwide, with similar branded events held in Buenos Aires on various occasions, as well as many other countries in South America, Europe and even the UAE.
Creamfields in the UK attracts the major stars of the electronic and dance music worlds, with 50-60,000 people annually enjoying headliners including Avicii, David Guetta and the Chemical Brothers. Access by car is via the M56 motorway and car parking is available free of charge for those who have purchased camping tickets. Day rate parking is also available. The event has its own campsite and a higher-end camping village – Dreamfields – which offers plenty of luxury accommodation. There are plenty of guesthouses close to the site too.
Wireless Festival (London, UK)
Each July the UK's capital plays host to Wireless, a three day event celebrating a diverse range of music, from pop to rock to dance and urban beats. In recent years the event has become more of a celebration of urban and hip-hop music, with fewer mainstream pop artists appearing. It was established in 2005, and has been held in Finsbury Park since 2012. The event regularly attracts visitors from both the UK and overseas, who come to sample not just the music on offer but the many sights and sounds of London; whether you're attending the whole event or just a single day, there are thousands of things to do in and around Finsbury Park and the city.
Unlike many festivals on this list, Wireless is not geared for camping. There is no accommodation on site and visitors are expected to use the excellent local transport links to get around; lockers and storage are not available at the event, so don't turn up with masses of gear. Most visitors stay locally in London and travel in via tube, bus or taxi. The event is suitable for all ages, though – as with most festivals – anyone under 16 must of course be accompanied by an adult.
Rock am Ring / Rock im Park (Mendig / Nurnberg, Germany)
Held annually at the beginning of June, the twin German rock festivals attract the best established and breakthrough alternative rock and metal artists to its stages. As with the UK's Reading / Leeds festival, the artists traditionally perform once at each venue during the event's duration. The dual events attract around 150,000 visitors each year; the famous Nurburgring has held one event each year since 1985 (with the exception of a two year gap in 1989/90), while Zeppelinfeld at Nuremberg has been the home of the Rock im Park gathering since 2006.
Both events are easily accessed by car, and there's a huge choice of camping options including lots of space for caravans and motorhomes; there's a green camping area for those who are more environmentally-conscious and offers a quiet zone from 1-8am. It's also possible to use one of the shuttle buses and local transport links to stay off-site and travel in by day.
Lowlands (Biddinghuizen, Netherlands)
If you wish to experience a similar experience to Reading / Leeds and find yourself in the Netherlands in mid August, head to the Lowlands festival. Held around an hour from Amsterdam, and thus providing easy access to the city and its cosmopolitan delights, Lowlands has been established for 25 years and is one of Western Europe's biggest rock and indie festivals. It is especially celebrated for being family-friendly and offering a cleaner, less intimidating atmosphere than many other major rock events. Alongside the music there are theatrical and cinematic offerings, comedy, other live shows and much more to keep attendees entertained throughout the three days.
Biddinghuizen is approximately 70 km east of Amsterdam and access by road is straightforward. Camping and parking are provided on site and there's a huge range of shops, stalls and facilities to keep the 50,000 plus attendees occupied and happy. The event caters very well for families and disabled visitors, and is renowned for its diversity and inclusion.
Latitude (Southwold, Suffolk, UK)
Mid-July sees the annual Latitude event, a gathering of indie-folk music lovers and those seeking an eclectic mix of music, arts and theatre. It takes place at Henham Park close to Southwold in the rolling Suffolk countryside, and has been a yearly attraction since its first event in 2006. The event blends contemporary and established folk and indie musical artists across a number of stages, and provides a diverse mix of alternative attractions including theatre, art, ballet, comedy and even poetry!
Latitude is very family-friendly, with many attractions and facilities for children, and takes place in a relaxed atmosphere. Headline musical acts have included the likes of Mumford and Sons, Snow Patrol, Lily Allen and even the Pet Shop Boys, while recent years have seen an influx of more dance-oriented artists including Fatboy Slim and New Order. The event lasts for four days and there are many camping and accommodation options at the site. Car parking is included in the admission price.
Sziget Festival (Budapest, Hungary)
The second week of August traditionally features one of Hungary's most important annual events. Sziget is a one-of-a-kind festival and celebration of music that takes place on a 100 hectare island in the Danube, known as Obudai-sziget. It has won numerous awards for its innovations and all-round aesthetic, and over its week-long run it can attract close to half a million visitors. Musical delights on offer comprise the best of the alternative rock, heavy metal, punk, pop, acoustic and hip-hop scenes, attracting heavyweights of the industry such as Muse, Rihanna and Kasabian.
More than half its annual visitors come from outside Hungary, with Budapest providing an excellent base for exploring both the festival and the country's many delights. There is a wide diversity of camping options available at the site, from eco-friendly green camping to basic tents, caravans and more upmarket pitches with access to a swimming pool! Parking is available on the island and of course in the adjacent city, with easy access via car, train or boat!
EXIT Festival (Novi Sad, Serbia)
EXIT is a multi-award winning celebration of music that has taken place every year since 2000 at the Petrovaradin Fortress in the Serbian town of Novi Sad. It spans several days in early July and regularly sees upwards of 200,000 visitors partaking of the many festival delights. It was established as a protest movement and has now become very much a celebratory, iconic festival of the very best from all genres of music. Headline acts have ranged from Guns 'n' Roses and the Manic Street Preachers to the Sex Pistols, Billy Idol and many of the world's leading DJs and dance artists.
There are two main stages, one for rock and heavier artists and one which focuses exclusively on dance music, while there are smaller stages and events dotted around the festival grounds. These include areas devoted to niche musical performances and stands and exhibits which convey the festival's excellent work in promoting social development and youth involvement.
This area of Serbia is famed for its tourist attractions, and visitors are often drawn to the coastal delights close by. Festival attendees can stay at the site, with lots of camping options on offer, and there are also numerous hostels and hotels within the vicinity, to suit people on all budgets. Driving around much of Serbia is straightforward, with routes to Novi Sad and the festival well marked and easy to spot.
Bestival (Lulworth, Dorset, UK)
After more than a decade on the Isle of Wight, Bestival returned to the mainland UK in 2017 and found a new home at Lulworth Estate in Dorset, southern England. Each year has a particular theme, which influences the acts chosen and the event's overall direction. It has been likened to a giant party, with fancy dress days each year and unusual attractions for families to take part in alongside the usual festival features.
Bestival has won many awards for its atmosphere, friendliness and organisation, and has attracted upwards of 50,000 visitors each year. Headliners range from pop and indie artists such as New Order, Florence and the Machine and Amy Winehouse to more niche performers in genres such as including garage, punk and electronic music.
Lulworth Estate is located on the Dorset close, not far from the tourist destinations of Weymouth and Bournemouth, and is excellently served by road and rail links. Drivers are well catered for, with easy access to good parking facilities; camping on site ranges from simple tents to glamping and upmarket yurts, and of course caravans, mobile homes and campervans can be brought to the event. For a feelgood, quintessentially British experience, Bestival ticks plenty of boxes.
Hellfest (Clisson, France)
Instigated in 2006 to replace the former 'Fury Fest', this French event celebrates the best of hard rock and metal. It takes place in mid-June and attracts around 50,000 visitors daily who indulge in the very best that metal and its many sub-genres can offer. The concerts take place over several stages, and have featured some of rock music's biggest acts including Iron Maiden, Judas Priest and Megadeth in recent years. There are also specialist smaller venues which cater for more niche areas of heavy metal alongside the more established headline acts.
Visitors have plentiful accommodation, with around 25 acres of campsite devoted to the event; parking is free for all vehicles, and shuttle buses are available to get people around the neighbouring region. Clisson is situated in western France, around 25 km from Nantes, and is very easy to get to by car both for locals and visitors from neighbouring countries or the UK. The medieval city and surrounding areas offer many attractions above and beyond the music festival, and it's a straightforward drive onwards to Paris and central France.