Best Camping trips in the South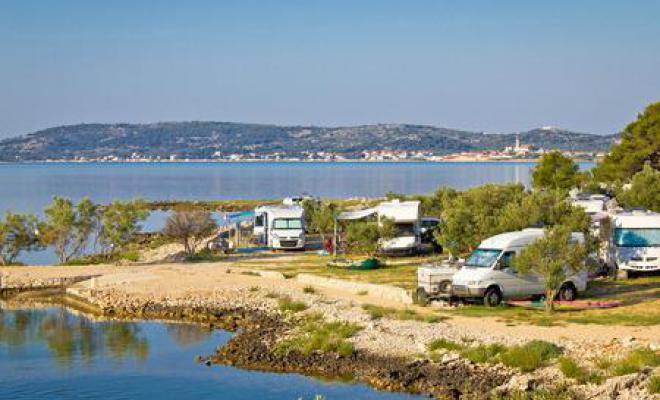 Each year more than a million Brits pack up their cars or hire a van and head off on a camping holiday; from a quick weekend getaway to a far-flung adventure, the appeal of holidaying in the open shows little sign of waning. Southern England is especially blessed with a diverse range of campsites, catering for all tastes; from luxury yurts to retro caravans, cosy farm locations to windswept hilltop retreats, England's southern regions have it all. In this feature, we take a look at 20 must-visit sites.
Slapton Sands Camping and Caravanning Club – Slapton, Devon
Devon has long been a holiday destination of choice, with its miles of glorious coast set against rolling moorland and dramatic vistas. Slapton Sands site looks out across Start Bay with its enormous shingle beach, and is renowned for its quiet atmosphere and friendliness. The site is just a few miles from the bustling town of Dartmouth with its many attractions. Totnes is also within reach by road or boat. Families are well catered for here, with a children's playground, clean facilities and an on-site laundry. Slapton village is within walking distance, and offers excellent local produce and a respected pub, the Queens Arms.
Fairfields Farm Caravan Site – Pevensey, East Sussex
Another site renowned for its friendly, family-oriented welcome is Fairfields Farm. Located in Westham village, within a short walk of the East Sussex locale of Pevensey, this campsite on a working farm offers a mix of lakeside trails and a menagerie of farm pets to enjoy. There's a fishing lake, cycle paths at hand and a relaxed atmosphere ideal for winding down in the evening.
Located close to road and rail networks, campers can also walk to Pevensey and explore its famous castle and the Norman church which dates back to the 11th Century. Pevensey Bay is just 2 miles away, and can be reached by a footpath adjacent to the site, while the famous resort town of Eastbourne is a 10 minute drive, offering bars, theatre, nightlife and plenty of shopping opportunities. Brighton is half an hour away, and the site is under two hours from London by train.
Bryher Campsite – Isles of Scilly
The glorious Isles of Scilly boast many attractions, all of which are perfectly accessible from Bryher Campsite. With views across to Tresco and the notorious Hangman Island, the campsite is beautifully situated in a sheltered dell between the hills. There's a lovely sandy beach close by at Green Bay, while Rushy Bay offers an unspoilt quiet spot beloved by swimmers and those seeking some quiet time.
Facilities at the campsite are good, with cheap laundry services on offer, along with the usual restrooms and showers. If you want to venture off-site to eat, Hell Bay Hotel offers a wide assortment of meals, including locally-sourced seafood, and Fraggle Rock pub is ideal for spending a pleasant evening with friends.
Treen Farm Campsite – Penzance, Cornwall
It may be situated right at the end of the country, a mere 3 miles from Land's End, but Treen Farm is well worth a visit. Set back from the clifftop, this site boasts a shop which is famed for its great local produce, with meat and dairy products in abundance. Many of Cornwall's most idyllic beaches can be found within a few minutes walk or drive; these include Pedn Vounder's quiet sands, iconic Sennen, and the glorious surfing on offer at Whitesands Bay. Land's End is of course a must-visit for anyone exploring Cornwall, while the Minack Theatre is an open-air auditorium close at hand. Camping at Treen Farm is very cheap, with pitches from just a few pounds per person per night; advance booking is not required.
Shorefield Country Park – New Forest, Hampshire
Hampshire is an idyllic English county with wonderful cities, dramatic coastlines, and an array of visitor attractions. Chief among them is the walking haven of the New Forest, which is a mere two miles from Shorefield Country Park. The park itself sprawls over a wide area, with several campsites and areas dedicated to visitors. The English Tourist Board presented Shorefield Park with an award for excellence, designating it as a 5 star resort, and it also holds the David Bellamy Gold Award for Conservation.
A wide array of camping experiences are on offer, from guest chalets and pine lodges to more luxurious holiday homes boasting hot tubs, gardens and private facilities. A dedicated touring park, known as Lytton Lawn, sits across a 5 acre site around 2 miles from the lodges. There are both hard-standing and grass pitches, while on-site facilities are comprehensive, with a laundry, shops, children's play facilities and fields, and a complimentary membership to the Shorefield Leisure Club is offered to all guests. The site is pet-friendly and meets very high accessibility standards for disabled visitors.
Pleasant Streams Farm – St Austell, Cornwall
If it's a Cornish idyll you're after, look no further than Pleasant Streams Farm. Situated adjacent to the wonderful Pentewan Valley Trail, beloved by walkers and bikers alike, the farm boasts a magnificent lake with rowing boats to tempt you in! Campfires are encouraged to promote a relaxed and sociable atmosphere, while rainy days can be spent in the summerhouse with its library of books and games. There are vintage caravans on offer, while a kayak can be hired to enjoy the nearby waters at Charlestown and other local beaches. St Austell itself is close by, offering more amenities and sights to while away your stay in the beautiful Cornish county.
Grange Farm – Isle of Wight
Travellers to the Isle of Wight rave about Grange Farm, a camping site located atop the high cliffs overlooking Brighstone. It can be a little exposed in strong winds, but the beautiful views and easily-accessed sandy beach make up for any discomfort. The campsite features playing areas and sports fields with quirky facilities ideal for the kids, while there are free showers and excellent heated washing areas. Basic supplies can be bought on site, though most campers will venture to Brighstone to stock up. The village is located little more than half a mile away and features shops, a cosy tearoom and pubs. The campsite is an ideal base from which to explore the wider Isle.
Bay View Farm – Polperro, Cornwall
Another beautiful Cornish spot, Bay View Farm offers amazing views across to West Looe and St George's Island. The site is one of the smaller ones on our list, but features plenty of facilities, including on-site Wi-Fi, free hot showers and "snugs" or wooden huts as an alternative to your tent! Polperro, Cornwall's famous fishing village, lies close at hand, with a gamut of fresh fish on offer, while Black Rock resort is accessible via a coastal walk. Further afield, the Eden Project is around 10 miles away, and is well worth a visit. Rates are pretty reasonable, starting from around 10 pounds per night for a family of four away from peak season and double that in mid-summer.
Wapsbourne Manor Farm – Sheffield Park, East Sussex
Known as "Wowo" by its returning clientele, Wapsbourne Manor Farm is renowned for a lively, fun atmosphere and a fantastic retreat from the hustle and bustle of everyday life. Less than two hours from London, Wowo has a range of quirky attractions which give it its distinctive ethos – there are few rules other than to have fun, with campfire singalongs, trees to climb, a playground and loads of things going on year-round. The site spans some 150 acres, with four main campsites and other retreats dotted about. Saturday night is a haven for musicians, who can get free accommodation in return for their busking, and with pizza-making, a table tennis table, woodland trails, organised activities and a carefree spirit, this is a terrific place to unwind. Unsupervised groups of under 18s are prohibited, while campervans and motorhomes are also not allowed on site.
Ninham Country Holidays – Shanklin, Isle of Wight
Found at the southeast end of the Isle, Shanklin is a much-loved and diverse town that has hosted visitors since the nineteenth century. It comprises a modern area for shopping and conveniences, together with a quaint, thatched old town that draws in visitors from far and wide. Ninham Country Holidays campsite can be found close to the town, and is itself split into two distinct regions. The Willow Brook campsite is a more spartan area which offers a secluded feel, while the hyper-modern "Orchard" site boasts eco-friendly solar technology and classy family facilities. Each site offers an excellent retreat from the island's busier attractions and come highly recommended.
Hawthorn Farm Caravan Park – Dover, Kent
From a quiet island campsite to one of Kent's busiest parks. Hawthorn Farm boasts more than 5,000 trees spread across 28 acres of landscaped forests and gardens. The peaceful surroundings belie the park's popularity, with more than 40,000 visitors arriving annually from all corners of the globe to take in this wonderful slice of rural British life. The site is a mixture of private holiday homes and around 250 camping pitches open to all, with excellent facilities across the grounds. The farm sits on popular road and rail routes, with Martin Mill railway station a quarter of a mile away with a direct service to the capital. Within close proximity of the park is a local village, offering all the usual amenities, while Dover port is only 10 minutes away by car. The region also features a host of beautiful castles, golf courses, sporting venues, parks, and visitor attractions, while a number of Blue Flag beaches are within a short drive.
Downshay Farm – Swanage, Dorset
Few locations evoke Britain's bygone times than this area of Dorset. The Jurassic coastline remains unspoiled, while the nearby Purbeck hills are often mist-shrouded and ethereal. Corfe Castle, a popular attraction, rises from the hills and is directly visible from the campsite. Visitors arriving by train are drawn into the "olde worlde" aspect of the region, with the famous steam locomotives ferrying their passengers close to the farm. The working farm offers a caravan park and also bed and breakfast accommodation, while the camping area features free hot showers, a regularly-visiting mobile shop, and toilet blocks. Pets are welcome, but dogs must be kept on a lead at all times as this is a working farm.
Burnbake Campsite – Studland Bay, Dorset
Another campsite that lies close to Corfe Castle and the charms of Studland Bay is Burnbake. With around 130 pitches available, the site is popular with repeat customers, thanks to its excellent facilities and proximity to the region's excellent beaches and sights. There are numerous well-maintained cycle paths, making this a great spot for cyclists to stay, and there's an on-site cafe and shop which sell local produce such as meat, dairy and bakery goods. Wareham and swanage are close by, while Corfe Castle is just a short drive away. As with Downshay farm, pitches are available on a first-come, first-served basis, so make sure you arrive early, especially at popular times, or you may be disappointed.
Cobbs Hill Farm – Bexhill, East Sussex
Situated just three miles from the charming old seaside town at Bexhill, Cobbs Hill Farm is a working farm which is especially good for families and younger visitors. There is a great adventure playground as well as lots of animals to see and pet. Pitches at the site are available for cars, caravans and motorhomes, and facilities include showers, toilets and a laundry. There's a small shop which stocks basic supplies, while Bexhill itself has many more shops and plenty of things to do. Boating lessons are available at the local Sailing Club, while there are lots more outdoorsy attractions across the region. Lots of bars and restaurants catering to all tastes can be found a short walk or drive from the site.
Cliff House Holiday Park – Southwold, Suffolk
Campers heading to Suffolk are well served by Cliff House Holiday Park, a tranquil woodland site which covers around 30 acres. The site lies close to Southwold, with its excellent beach, and is also within a short walk of the sands at Walberswick. The region offers many outdoor pursuits, from the Minsmere nature reserve to the seal and porpoise watching at the nearby Coastal Centre. Sand and stone beaches are in plentiful supply close to the park, while Southwold also boasts a pier and brightly coloured beach huts. Facilities on site are good, and even include a games room and restaurant serving hearty food and real ales. There are hot showers and laundry facilities, and electricity is provided at each pitch. Prices are competitive, around 15 pounds per family per night off-peak rising to 25 pounds in summer.
Housedean Farm – Lewes, East Sussex
While many of the campsites on this list offer coastal retreats or seaside views, Housedean Farm is found in the middle of the east Sussex Downs and is a perfect location for walkers and cyclists. There are 26 sizeable pitches available as well as several huts and tents, all of which come with individual firepits – BBQ materials can be purchased at the farm. Caravans are not allowed, however. There's mountain bike hire too should you wish to get out and explore the beautiful South Downs way, or you can simply get out on foot. The site itself sprawls over some 900 acres and offers a perfect spot for exploring the Downs with its valleys, hills and ancient villages and churches. Larger groups are welcome as long as there's prior booking, while pets – including horses – are also allowed on site!
Ocean Pitch – Croyde, Devon
Campsites are popular with surfers, and few more so than Ocean Pitch at Croyde, which offers visitors a direct view onto the beautiful bay where it resides. The site is located adjacent to the coastal path at the gorgeous Croyde Bay, allowing visitors rapid access to the glorious sands and ideal surfing waters. Ocean Pitch has around 50 individual pitches ideal for tents and campervans, while caravans are forbidden. The site also doesn't allow for pets, stag or hen parties, and tries to keep a restriction on the number of children, so if you're travelling as a family it's best to check availability in advance. Wi-Fi is available at the site, together with cold drinks, phone charging, snacks and BBQ equipment, and the camp is staffed 24 hours a day.
Ayr Holiday Park – St Ives, Cornwall
Another excellent site for surfers and those seeking sea views is the Ayr Holiday Park, located very close to the popular, old-world fishing port of St Ives. Cornwall boasts numerous lovely villages and resorts and St Ives is right up there for amenities and things to do. The park is also perfect for accessing Porthmeor Beach with its great surfing and sand dunes. The campsite offers great facilities for families and groups alike, with a children's play area, dedicated wet room, games room, and free showers and hot water. St Ives offers plenty of things to do by day or night, including some arts entertainments, good restaurants and pubs. The site isn't especially cheap at around 40 pounds per night for a tent and two adults at high season, but the location is magnificent.
The Meadows – Pentewan, St Austell, Cornwall
Another excellent campsite located at the heart of the Pentewan Valley, just three miles from St Austell, The Meadows is an adult-only venue, catering for couples and adult groups, with children not allowed. There are 40 pitches, 20 served with electricity, and a pair of vintage caravans to boot. Small motorhomes, caravans and campervans are all welcome, as well as those camping in tents. Pets are also allowed on site. The site is perfectly situated for exploring the valley and its many charms. It is an Area of Outstanding Natural Beauty, with walks and cycle trails in abundance, and the owners have worked hard to try and attract wildlife to the park. The Heligan Gardens can be reached by a short walk, and the Eden Project is around a half hour drive from the park. Campers who arrive by foot or bicycle will also get an additional 25% discount from the owners.
Copthorne Caravans – Bognor Regis, West Sussex
The traditional English resort of Bognor Regis has long been a favourite of holidaymakers from across the country, and Copthorne Caravans is a great addition to the list of places to stay. This family-owned park is located close to Bognor, and is right on the local transport network, with a bus stop outside the gates. The accommodation on site is in static caravans, with excellent additional facilities including a children's play area, an indoor games room, playing fields and a range of laundry services. The park also boasts free Wi-Fi for all visitors. A range of shops can be found just outside the site. The park is in close proximity to many of the region's major tourist destinations and attractions, such as the South Downs, Portsmouth, Chichester and Goodwood. The site caters for both short breaks and longer holidays, with most changeover days on Monday, Friday or Saturday. Holidays at other times can be arranged directly too. The site is of course family-friendly and welcomes children, but no dogs are allowed in the park.
Wattle Hill Oast
The only way is posh for this East Sussex Glamping family retreat. Open to families and couples this idyllic site is twenty minutes from the coast and perfect for people with a wide range of interests. For the outdoorsy types there is a woodland area to travel around. For children there is also the chance for them to feed animals at the piggery and egg collecting in the hen house.
Looking to relax? Your hampered up 7m bell tent comes complete with full size futon and single bed for the children. For those who are looking to escape the urban landscape, there is the chance to buy home grown meat and pick your own vegetables from our fields.
Do you want something extra special? With an indoor pool, sauna, fitness suite, personal training, babysitting and beauty therapy – Wattle Hill Oast has everything needed to unwind and make the holiday memorable.
45 minutes from junction 5 off the M25, Wattle Hill Oast offers a wide range of accommodation, activities and memories – perfect for the ultimate summer holiday experience.
Vintage Vacations
Don't have a tent but want a camping holiday? Experience the ultimate in post war engineering with Vintage Vacations in the Isle of Wight. Spend your holiday in style in one of the site's sleek and stylish air stream trailers.
Replaced by modern motor homes in the 80's these aluminium trailers offer timeless design and sturdy creation – something that has led to a renaissance for these classic caravans over recent years. Requested on set by movie stars and used by astronauts such as Neil Armstrong on the way back from the moon, the airstream quickly became the staple of luxury accommodation.
Combining holiday chic and retro comfort, the 60's theme runs through the entire trailer with yellow-lacquered kitchen cupboards, colourful curtains and classic games such as fuzzy felt and tiddlywinks.
The nearby town of Newport offers all the holiday highlights such as a waxwork museum and waltzing waters, a spectacular water and light show. For those looking for a more relaxed atmosphere, why not unwind in one of the many tearooms?
Open March to October this site is perfect for couples as well as groups and families. Offering a unique and memorable experience in one shiny bubble, Vintage Vacations is ideal for those looking to escape and enjoy life free from distractions.
Southern England is blessed with great beaches, historic monuments and castles, and bustling seaside towns. If you've never tried camping, or you're a regular camper looking for somewhere new and exciting to visit, the above list provides a great selection of starting points for your holiday, all offering excellent facilities and the perfect base to explore the local area.