Best Camping trips in the North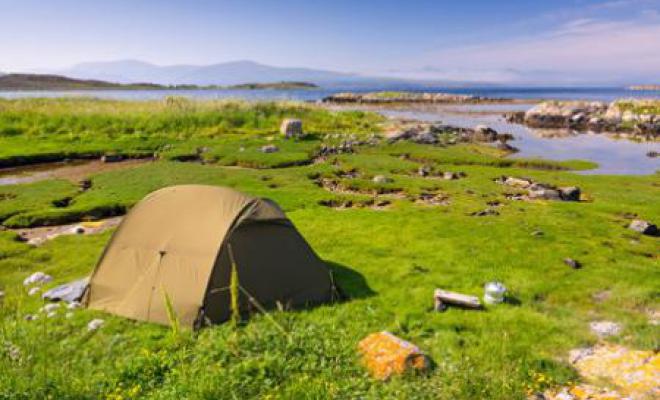 Scotland- Badrallach
This isolated site located approximately 10 minutes from Ullapool is tucked away in a lost corner of North-West Scotland.
Open all year long and eight miles from the nearest road, Badrallach is perfect for groups, dogs, pitches, camper vans and motorhomes.
Looking for a more luxurious stay?
Why not rent a cottage, stay in the bothy or rent a caravan? Ideal for outdoor adventuring, grab your walking boots and experience the Scottish countryside at its best.
Whether it is walking, hiking or kayaking there is something for everyone.
There are also kayaks, inflatable, and sailing boats for hire to residents depending on the weather.
Looking for somewhere to fish?
20 minutes drive away you will find Corrieshalloch Gorge, a spectacular chasm located just off of the road.
For those looking to hide from the weather, the local Frigate cafin Ullapool is a classy, continental bistro that seems to have gotten lost and ended up in the far North-West of Scotland.
Wales
Celtic Camping Residing on 250 acres of National Trust land this farm and campsite cuddles the Irish Sea offering stunning coastal views.
There is also direct access to a nearby sheltered swimming cove and Pembrokeshire Coast Path.
Perfect for camper vans and caravans, Celtic Camping is dog-friendly and offers a wide range of outdoor and coastal activities from survival training to raft building and everything in between.
Nearby there is the opportunity to experience whale and dolphin watching. There is also the chance of RIB rides to the North Pembrokeshire Islands.
Open all year round and located just 4 miles from Britain's smallest city, St Davids Celtic Camping is sure to offer something for everyone. Even teenagers, who arrive grumpy because of the lack of mobile signal, leave with a smile and memories that will last a lifetime.
North of Britain
Longvalley Yurts at Knotlow Farm In the centre of the world's first designated National Park, halfway between Buxton and Bakewell lies Knotlow Farm.
Offering traditional English rural life, this traditional farm-cum-campsite is situated in the scenic Derbyshire countryside. With elegant, spacious yurts constructed of timber and modeled off the authentic Turkmen model five people can sleep comfortably inside one yurt on a selection of futons and blow-up mattresses.
Specifically designed to withstand the harsh winters of Central Asia steppe, these yurts are more than prepared for the unreliable British weather.
Not only is there breathtaking views to be soaked up, but there is also an abundance of activities available from potholing to canoeing. For fans of wild swimming, plunge into Panniers Pool at The Three Shires near Flash, England's highest village.
For those who would enjoy a more relaxed atmosphere why not head northward towards Hope Valley and recuperate in a quaint tearoom before exploring the nearby subterranean cave network of Speedwell Cavern.
Want to go on your own camping adventure? Do you not have the wheels for it?
Why not visit our website and see how Nationwide Hire can help you on your way to the experience of a lifetime?